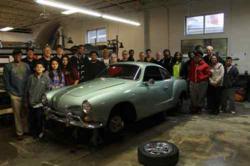 "The Social Fuel Tour takes education out of the classroom and on the road," said Rees. "The goal of the tour is to start a national conversation about experiential learning."
Kansas City, MO (PRWEB) May 23, 2013
The students of MINDDRIVE, a nonprofit educational program that aims to teach STEM principles through hands-on learning techniques with projects that inspire our next generation to solve modern issues of our time, are embarking on a road trip in an electric car. The trip is from Kansas City to Washington, D.C., from May 31 to June 7, and will be powered by social fuel through the social activity of MINDDRIVE supporters and the public.
"MINDDRIVE provides students with a learning environment that is based on experiential learning projects that allow in-depth exercises and real-world application of math, science, technology, and environmental relationships," said Steve Rees, CEO of MINDDRIVE. "The mentors and instructors of MINDDRIVE offer the students an additional voice and role model in their lives. The program gives all of the students a foundation of confidence and an expanded vision of their future that allows them to have a sustainable life."
The Social Fuel Tour, with stops in several cities, including Springfield, Ill., Indianapolis, Ind., Akron, Ohio, Pittsburgh, Pa, and Washington D.C. The students restored and converted a 1967 Karmann Ghia into an electric car. The restoration of the Series 2 Karmann Ghia is made fully from sustainable materials.
An Arduino device designed to monitor and capture activity on the social media channels of MINDDRIVE and their sponsors will trigger the motor to engage or not engage depending on the level of social fuel.
There are several ways that social activity will be monitored during the tour: follows on Facebook, Twitter, Instagram as well as like, shares, comments and YouTube video views. For Twitter and Instagram, supporters must use #minddrive and/or tag @minddriveorg.
In addition to its own social channels, MINDDRIVE will leverage the social networks of the program's core sponsors such as Bridgestone, Sonic, Hertz and Kansas City Power & Light to earn social fuel.
Social engagement will be monitored by VML's proprietary social listening platform, SEER.
Twenty students will participate in the tour and there will be stops made at technology centers, college campuses, and at environmental projects such as a wind farm. The students will present the MINDDRIVE programs at many of the locations, which helps further develop their public communication skills.
"The Social Fuel Tour takes education out of the classroom and on the road," continues Rees. "The goal of the tour is to start a national conversation about experiential learning. The education system in America is broken, and programs like MINDDRIVE are helping to transform the education system outside of the political gridlock."
The tour ends in the nation's capital with a press conference on Capitol Hill and a briefing hosted by Missouri's 5th Congressional District Congressman, Emanuel Cleaver. Attendees include the Department of Education, the Department of Transportation, the Department of Energy, the STEM Coalition, among others, including their colleagues serving in the House.
For more information on the history of MINDDRIVE, the Social Fuel Tour or experiential learning, visit: http://minddrive.org/connect/social-fuel-tour-2013/.
###
ABOUT MINDDRIVE
MINDDRIVE'S mission is to inspire students to learn, expand their vision of the future, and to have a positive impact on urban workforce development. The program is funded through the national sponsorships of Bridgestone, Hertz Corporation, SONIC®, America's Drive-In®, American Society of Mechanical Engineers (ASME), and KCP&L as well as through local foundations and individual contributors.
MINDDRIVE serves 30 students from the urban core of Kansas City, currently working with 5 area schools; there are 21 students participating in Automotive Design Studio and 9 in Contemporary Communications. The students choose their course and also are given the freedom to align with the particular aspect of the project that gets them the most jazzed. Mentors play a significant role in finding what that spark is for each student, then figuring out a way to inspire them in that direction.
ABOUT SOCIAL FUEL TOUR SPONSORS
The Social Fuel Tour is supported by MINDDRIVE's corporate partners, including: Bridgestone Tires' ReThink Green campaign, Hertz Corporation's Living Journey initiatives involving global sustainable mobility programs and its Green Traveler Collection. Additionally, SONIC®, America's Drive-In® offers support through its efforts to encourage learning through engaging activities. KCP&L supports the MINDDRIVE and the Social Fuel Tour in three areas: education of urban youth, stimulating innovation, and creating solutions for a more sustainable world. The ASME (American Society of Mechanical Engineers) and the Automobile Dealers Association of Greater Kansas City supports MINDDRIVE'S efforts to have a positive influence on urban workforce development, which is a shared value of the two organizations.
VML, a global marketing agency headquartered in Kansas City, is behind the creation and development of the Social Fuel Tour and will be on hand supporting the initiative from the road from daily content development (web, video, photo, social) to monitoring the social fuel through its proprietary social listening platform, SEER.