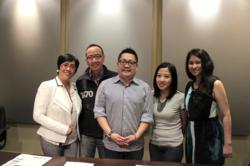 Richmond, B.C. Canada (PRWEB) May 23, 2013
Juan TV Inc., is pleased to announce its partnership with Fairchild Radio Inc. to broadcast Filipino radio program starting May 20, 2013 known as Juan Radio 96.1 on Fairchild-FM, The Pinoy Radio.
Juan Radio 96.1FM radio program will air from Monday to Friday at 10:00am till 11:00am; and Saturday from 11:00am till 3:00pm. Filipino content programming will include but not limited to playing Original Pilipino Music or OPM hits from the 70's up to the current millennium, breaking news from the Philippines, local community events and public service, and all pertinent topics that matter to Filipino-Canadians.
Alan Yong, CEO of Juan TV Inc., says, "Juan Radio in Vancouver is only the first step. Our plan is to have Filipino radio programs across Canada in the major cities where Filipinos reside on or before the end of next year."
Juan TV Inc. Executive Vice-President, Socorro Newland added, "this undertaking is pretty unprecedented. It has never been done before where Filipino radio programs are aired six times a week."
"Radio has always been in the psyche of the Filipino. In the pre- and post-war eras, and even during the Edsa Revolution when TV has been plagued by power outages and power struggles, radio has been the solace of the population. Now that the Filipinos have a radio station in Vancouver through Juan Radio 96.1 FM, where Filipinos can listen to OPM and have sounds from home, there's no other word to describe it—it's epic," quipped Juan TV Inc. Vice-President for Legal Affairs, Melissa Briones.
About Juan TV: Juan Radio is division of Juan TV Inc. is a Canadian-based Radio, Television and Talent Management Company focusing on Filipino demographics in Canada. Juan TV Inc. will be launching its own television channel to be known as JuanTV with a combination of original production to include but not limited to local news, commentaries/talk shows; as well as news and television programs from the Philippines. As well, Juan TV Inc. will be offering "linear" programming to some of the Philippines' entertainment giants and major players such as Viva Entertainment, Solar TV and others. JuanTV, via it's radio division, Juan Radio 96.1FM launched Vancouver's first and only Filipino radio program that airs 6 days a week for the Vancouver Filipino community bringing breaking news, talk shows and interplay of Original Pilipino Music or OPM.
Juan TV Inc.'s affiliate also includes Canada's first and only nationwide Filipino paper and daily news website with a readership of over 480,000 readers monthly – The Philippine Canadian Inquirer which is in cooperation with the Philippines' largest circulating newspaper – The Philippine Daily Inquirer.
About Fairchild: The Fairchild Group is a business conglomerate in Canada, with headquarters in Vancouver, British Columbia, Canada. Fairchild Group operates various media properties under the Fairchild Media Group name. Fairchild currently operates the Cantonese channel Fairchild TV, Cantonese & Mandarin radio network Fairchild Radio , and Mandarin channel Talentvision. Fairchild Group is also involved in film production, real estate development, retail, telecommunications and wholesale trade.
This press release contains forward-looking statements relating to future operating information and their impact on future results.