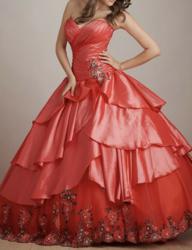 (PRWEB) May 23, 2013
Today, dressesuk1.co.uk releases its new designs: 36 prom dresses. The company has also launched a prom dress promotion throughout the Summer 2013. A spokesman of this company, says that all these prom dresses are offered with discounts now.
The new prom dresses are featured with trendy designs, craftsmanship, rich choices, fine tailoring, and meticulous production. They come in various designs and colors. Moreover, ladies can find many latest styles in town, like empire waist prom dresses and lace prom dresses.
"We are pleased to release our new designs to the global customers. Our color palette focuses on the most stylish colors, so make sure you check out all our latest products for the year ahead," states the spokesman. "We know that each lady wants to find her preferred dress to display her best figure, we focus on elegant and affordable women's dresses with an emphasis on the middle-end market."
The company provides thousands of women's dresses in different colors and styles, and customers can find their favorite dresses with some clicks of a mouse. The company promises to provide top quality products for its clients as well as fast delivery.
Moreover, dressesuk1.co.uk has recently updated its website. With a new updated interface, the website provides customers with cheap wedding dresses, bridesmaid dresses, wedding shoes, jewelry, veils, etc. The company is trying its best to give customers pleasant one-stop shopping experience.
About dressesuk1.co.uk
Founded in 2009, dressesuk1.co.uk is a popular supplier of women's dresses, offering a huge selection of women's dresses at acceptable low prices. They have a rich experience of 10 years in the manufacturing and retail of wedding dresses, evening dresses, bridesmaid dresses, and other special-occasion dresses. To learn more about their stunning collection of dresses, please visit their website at http://www.dressesuk1.co.uk