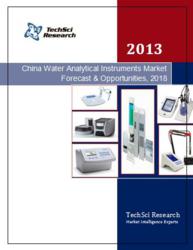 The market for pH meters is largest among all of the water monitoring instruments in China however; its share is expected to decline over the next five years - Mr. Karan Chechi
Vancouver, British Columbia (PRWEB) May 24, 2013
The market for water analytical instruments in China has fared well over the past few years and is expected to grow at a rapid pace over the next five years. The main reasons for growth for analytical instruments in China include flourishing pharmaceutical industry along with the increasing focus towards wastewater treatment. The increasing water pollution along with the rising water needs in China is also contributing to the demand for water analytical instruments in the country.
According to a recently published report by TechSci Research "China Water Analytical Instrument Market Forecast and Opportunities, 2018", China's water analytical instruments market is one of the largest in Asia and also among the most developed compared to other countries in the region. TechSci Research estimates the water analytical instrument market to grow beyond USD 550 Million by 2018.
The market for water analytical instruments includes handful manufacturers from China and several foreign manufacturers, majorly from US and Japan. The instruments offered by Chinese manufacturers are usually less expensive and of poor quality than the ones offered by the multinational players. The companies in this market are actively engaged in offering services such as installation and demo/ training sessions for detailing the description and functioning of the instruments. The market for analytical instruments is also being driven because of the increasing investments by the government in the sewage treatment industry of China.
The market is experiencing trends such as increasing emphasis on multiple parameter instruments, emphasis on cost reduction, etc. The market for pH meters is largest among all of the water monitoring instruments in China however; its share is expected to decline over the next five years said Mr. Karan Chechi, Research Director with TechSci Research a management consulting firm.
The market for water analytical instrument can be further classified on the basis of their application (end usage) i.e. laboratory use, industrial use, river and industrial sewage, municipal wastewater treatment and drinking water. Industrial and laboratorial usages are the two largest application segments of water analytical instrumentation in China. "The use for water monitoring instruments is increasing at a rapid pace and the industry is also witnessing technological developments. Rising industrialization and growing pharmaceutical industry are the major factors driving the growth of water analytical instrument market in China," further added Mr. Chechi.
"China Water Analytical Instrument Market Forecast and Opportunities, 2018" has evaluated the future growth potential of China's water analytical market and provides statistics and information on market structure, segmentations, etc. The report includes market analysis and projections for pH, DO, TOC, Turbidity and Conductivity meters in China. The report is intended to provide cutting-edge market intelligence and help decision makers to take sound investment evaluation. Besides, the report also identifies and analyzes the emerging trends along with essential drivers, challenges and opportunities available in water analytical instrument market in China.