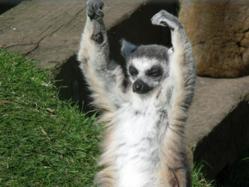 Jude Rothwell, PR and Marketing Coordinator at Blackpool Zoo, said: "We have a jam packed line up during half term and there is something for everyone to get involved in."
Blackpool, Lancashire (PRWEB UK) 23 May 2013
Blackpool Zoo is hosting a wonderful week of additional animal antics this half term.
Making ice lollies for the ele's (elephants), helping to design a feature art wall for the Ape House, getting hands on with amazing animal experiences and being involved in a Love Your Zoo video competition are just a few of the really wild activities planned.
From Saturday 25th May until Sunday 2nd June visitors will get the chance to help keepers make special treats for some of the zoo's 1500 residents.
Making willow balls full of delicacies for the lemurs, painting cardboard boxes for the big cats to hunt down, filling paper sacks of veggie delights for the river hogs and making special ice lollies for the zoo's three elephants are all on offer.
Blackpool Zoo is also supporting the European Association of Zoos and Aquariums mission raise money for its South East Asia Campaign.
Throughout the half term holiday visitors can buy and decorate a brick shaped piece of paper that will be used on a feature wall in the new Orangutan House, which will open to the public later this year.
It costs just 50p per brick and all proceeds will be donated to EAZA to help them protect endangered species, including orangutans, in South East Asia.
There will also be the chance to go behind the scenes of the Active Oceans arena to say hello to sea lions Gina and Anya.
With just a limited number of spaces available each day, on a first come, first serve basis, visitors are being urged to buy their tickets from the Amazonia shop next to the Elephant paddock when they arrive.
Hand feeding giraffes and meeting the many residents of the zoo's Children's farm are also on offer and a full programme of informative talks will take place throughout the week.
As part of National Love Your Zoo week visitors will also get the chance to get in front of the camera to tell everyone why they love Blackpool Zoo. Every video will be entered into a competition to win a great prize.
Jude Rothwell, PR and Marketing Coordinator at Blackpool Zoo, said: "We have a jam packed line up during half term and there is something for everyone to get involved in."
"From helping keepers to make enrichments for our animals to meeting some of our lovely residents in person, you are sure to have a really wild day!"
Blackpool Zoo is open at 10.00am every day of the year except Christmas Day. Closing time is 5.45pm and last admission is 5.00pm. Visitors can save on admission prices by booking online at http://www.blackpoolzoo.org.uk.
Ends:
Picture shows: The lemurs at Blackpool Zoo are looking forward to some half term treats!
More information about Blackpool Zoo:
Blackpool Zoo celebrated its busiest year to date in 2012, which was also its 40th anniversary.
Blackpool Zoo is owned by Parques Reunidos, the second largest European leisure parks operator and a leading world-wide player. The zoo is home to over 1,500 mammals, birds, reptiles and invertebrates set amidst thirty-two acres of mature woodland and lakes.
The zoo's signature animals include elephants, giraffes, big cats, gorillas, orang-utans, sea lions, primates, zebras and kangaroos. It is open every day of the year, apart from Christmas Day, from 10am.
For further information please contact:
Paula Holden or Julie Hackett at ICG on 01772 679383 or email paula(at)icgonline(dot)co(dot)uk or julie(at)icgonline(dot)co(dot)uk