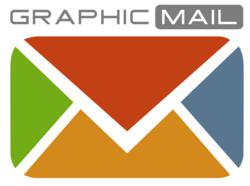 Using GraphicMail was a logical choice, as they offer localized support and expertise
Geneva, Switzerland (PRWEB) May 23, 2013
Entrepreneurship and adaptability is key when facing the onslaught of the continuing global economic downturn, and very few are able to maintain the current status quo without some sort of 'plan B'. GraphicMail's reseller program allows entrepreneurs; creatives or simply anyone with a good idea to use their own designs, paired with GraphicMail's advanced API to resell its mobile and email marketing services as a second party. With their fast-growing base of resellers, of which more than 25% are in the US alone, it's easy to see why GraphicMail is so well-trusted among entrepreneurs worldwide.
Businesses operating in the current economic climate must be able to tailor their services to suit the needs of the client, especially as there is so much competition out there. Said Gavin Henry Young of GHY design: "GraphicMail's reseller package expands the range of services we are able to offer as a business and gives us the ability to create customized offers for our clients."
With representation and industry-knowledge drawn from its global base, GraphicMail is able to offer relevant, engaging support to its reseller base. "Using GraphicMail was a logical choice, as they offer localized support and expertise," said Gavin, when asked why they chose GraphicMail's reseller package.
As a global ESP, GraphicMail's mobile and email marketing experience stretches over more than 10 years. One of the keys to this longevity is their ability to take on new ideas and their constant drive towards building a better product and service. This progressive mentality effects sustainable growth, and not just progress for the sake of progress.
Never complacent, their product offerings continue to grow with improvements like the new reseller dashboard and OneSaaS partnership, adding more value to what resellers can offer their own clients. Said Gavin: "The reason I chose GraphicMail in the first place is their great customer service and their willingness to explore new suggestions."
Said Torriano Topley, GraphicMail support manager: "Everything is made easy for our resellers, we have the new sub account manage system to manage all their underlying accounts without having to have separate CRM systems to manage credits. We also have the sneak peak of sends made from your top underlying clients to see which you could pitch to, to up-sell credits. Our features are powerful yet simple to use."