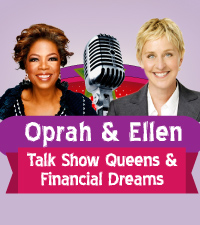 FinancesOnline.com did some digging to find and compare some of the most impressive splurges and investments that Ellen and Oprah have purchased over the course of their successful careers
New York City, New York (PRWEB) May 23, 2013
Daytime talk show fans and financial fanatics alike will enjoy FinancesOnline.com's new "Oprah and Ellen: Talk Show Queens and Financial Dreams" infographic comparing Oprah Winfrey and Ellen DeGeneres' lives, with a fun financial spin for measure.

The infographic explores the lives of day time television's most successful women starting with taking a look at their estimated net worth and some extreme assets.
The infographic proceeds to compare and contrast the early lives of Oprah and Ellen by comparing and contrasting their early lives.
FinancesOnline.com also dives into the respective university educations of the superstars as well as their family lives back home.
When it comes to big-spending on assets and property, FinancesOnline.com did some digging to find and compare some of the most impressive splurges and investments that Ellen and Oprah have purchased over the course of their successful careers. Comparing the costs of private jets to luxury vehicles and homes between the two hosts, the infographic explores the diversity in their incomes despite their similar successes.
Though, when it comes to the successful income and spending among talk show divas, spending their vast wealth on personal investments is not the only thing worth contributing to. FinancesOnline.com also takes strides in this infographic to highlight both Ellen and Oprah's many investments in different charities. Though their individual shows might differ from each other in content and personalities, both Ellen and Oprah have been extremely consistent in contributing to charities throughout the careers so the infographic emphasizes this generosity.
This comprehensive, colorful, and fun infographic from FinancesOnline.com does an excellent job of comparing and contrasting the successful careers of two of the most successful women who have ever graced the industry of daytime television with their presence. By comparing and contrasting their careers, finances, lives, charitable investments, and personal investments FinancesOnline.com succeeds in creating a fun financial analysis of the two celebrities.
The full "Oprah and Ellen: Talk Show Queens and Financial Dreams" infographic is available at FinancesOnline.com