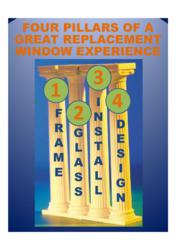 "There are a lot of very important things that go into a homeowner having a successful replacement window experience. This guide breaks down every aspect into clear, easy-to-understand articles."
Farmingdale, NY (PRWEB) May 28, 2013
Renewal by Andersen of Long Island publishes detailed 12-part guide to Replacement Windows, helping homeowners select the best replacement windows for their home. The guide, "The Four Pillars of a Great Replacement Window Experience", is a series of articles about all the key features that add up to a successful replacement window project.
In the articles, the company claims that there are four main pillars supporting a great replacement window experience and, like a chair with a broken leg, missing just one of these will adversely affect a homeowner's happiness with their new windows for years to come. In the multi-part series of articles published on its blog at http://renewal-by-andersen-long-island.com/, the company discussed in detail the many aspects that make up the pillars of a consumer's happiness with their new windows.
"When they start to shop for replacement windows, consumers hear many different things from different sources and can become very confused about what's important in the replacement window buying process," Joe Ronzino, president of Renewal by Andersen of Long Island said. "This guide breaks down every aspect of the replacement window purchase and installation process into clear, easy-to-understand articles covering everything from the Window Frame, Window Glass, Window Design, and perhaps most importantly, Window Installation. We're sure it's going to give consumers a lot more knowledge and confidence when they start shopping for replacement windows for their home."
Pillar One: Replacement Window Frames
In the first of this two-part article the company discusses what's good and bad about Wood, Steel & Aluminum Window Frames. The second part of the series discusses the two most popular choices today: Vinyl & Composite Window Frames
Pillar Two: Replacement Window Glass
Part one of this two-part article provides a brief history of replacement window glass while Part two discusses all the advances in today's High Performance Insulated Glass, including argon and krypton gas fillings and special coatings to keep heat where it belongs and even keep windows cleaner longer.
Pillar Three: Replacement Window Installation
This is such a critical Pillar of the Replacement Window process that the company needed four articles to cover it comprehensively. Part one discusses the importance of proper window installation to the entire replacement window process and how a poor installation can make even the most advanced windows perform poorly. In fact, the article makes the point that a great window with a poor installation can be worse, and cost homeowners more money over time, than a poor window with a great installation.
Part two in the series on the Installation Pillar described the importance of accurate measurements and manufacturing. Without proper and accurate measurement at the beginning windows can't be manufactured to the precise tolerances necessary to fit it to the custom opening at the jobsite.
Part three of the Installation Pillar describes what needs to happen at the jobsite and in the consumer's home to ensure the most accurate and professional installation, including such things as job site preparation, protecting the home's furnishings and landscaping and protecting the new windows so they stay pristine until installation.
The final part of the Installation Pillar is the actual installation. This section provides information on the many things the installer has to do to make sure the new windows operate properly and last for a lifetime.
The Final of the Four Pillars of Replacement Window Satisfaction has to do with the window's design and options. This two-part Pillar concerns itself with aesthetic and operational considerations, like the frame color, hardware selection, window grilles, insect screens, maintenance features and more.
For more information regarding any of the four pillars of a great replacement window project or a free design consultation, contact Renewal by Andersen of Long Island at 1-888-826-2451.
About Renewal by Andersen of Long Island
Renewal by Andersen of Long Island is the premier source for Andersen Replacement windows throughout Nassau County, Suffolk County, Queens County and Brooklyn. Renewal by Andersen is the exclusive start-to-finish window replacement subsidiary of Andersen Corporation—the most recognized window brand in the U.S. Since opening its first store in 1995, Renewal by Andersen has rapidly grown to more than 100 markets in the U.S., becoming one of the largest window replacement companies in the country, with over 2 million windows installed in over 300,000 homes.