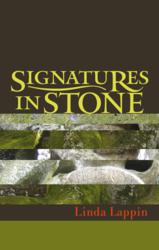 like eating dark chocolate or sipping a glass of fine wine — the story continues to entice your senses and simply gets better and better the more you partake.
(PRWEB) May 25, 2013
Tennessee-born novelist Linda Lappin author of the Indie classic,The Etruscan, takes on the mystery of Italy's celebrated Monster Park in her new novel Signatures in Stone. The park, located in Bomarzo not far from Rome, originally created in the 16th century by a Roman nobleman as a memorial to his wife, leads visitors on a journey through hell represented by its eerie sculptures of ogres, mermaids, and giants. Art historians are puzzled by its meaning: is it a pagan itinerary of initiation, a surreal illustration of its patron's weirdest nightmares, an allegory for political events, or a series of emblems concealing an alchemical formula for making gold? And who was the real mastermind behind this complex creation? Was it, perhaps, as some scholars believe, one of the greatest sculptors of the Italian Renaissance?
Lappin uses this mystery in Signatures in Stone as the background for a compelling tale of murder, sex, and secrets set in Bomarzo in 1927, when four unlikely misfits find themselves entangled in the meanders of the park. Daphne, a mystery writer with a hashish habit; Clive, an American gigolo and art forger; Nigel, an English aristocrat down at the heels; and Finestone, a fly-by-night art historian, are thrown together in a dilapidated villa looked after by two Italian servants who are not what they seem. Each character will find a private hell hidden in the park, and not everyone will make it out alive. Through the deforming mirror of the Bomarzo sculptures, Daphne will face up to the darker sides of herself while solving a murder for which she has been unjustly accused. Unraveling one mystery, she unwittingly solves another: who designed the Monster Park and why. Perfect summer reading for a plane trip or the beach, Signatures in Stone is an "intense, fast-paced, eloquently elegant mystery novel," showing how waking life, intuition, and dreams are much more interfused than we normally admit.
What Critics and Readers Are Saying About This Novel:
"I loved this novel! It's a rare balance between eerie and sense-making. Its main character is the spooky Italian landscape of Bomarzo and its Monster Garden of violent statues--which really do exist, the author tells us. But the 5 characters, including the engaging narrator, hashish-addicted Daphne, are as mysterious as the setting. Lappin's people are as dangerously compelling as her Italy. I look forward to a long, creepy series of Daphne mysteries." Five Star Review by Nina Auerbach, author of Women and Demons and Our Vampires, Ourselves, reviewing for Amazon.
"…Four eccentric traveling companions in an automobile to hell. Signatures in Stone is as brilliant as it is entertaining." Thomas E. Kennedy, author of In the Company of Angels and The Copenhagen Quartet.
"Signatures in Stone alters both consciousness and destiny, as our heroine discovers intrigue to match her own... The novel's a Gothic--in-Wonderland mash-up, no less, with a suspenseful throb that'll keep you dancing till dawn." John Domini, author of Earthquake I.D.
"Lappin is a modern day Agatha Christie with prose that is like eating dark chocolate or sipping a glass of fine wine — the story continues to entice your senses and simply gets better and better the more you partake. Not one to hurry to the plot, she unveils the scenes piece by piece, character by character and leaves her own signatures for you to find along the way." Vikki Walton I Love a Mystery
"In Linda Lappin's deftly written mystery of art history, sex, and murder…the gallant heroine barely escapes the Monster Park with her hashish pipe. Fun and witty." Margaret Sheffield, Art Critic,The Expressive Edge
"Lappin keeps us securely in our easy-chairs with the reading light turned on. Moments in the novel would remind you of James in The Turn of the Screw as you question the reliability of her narrator Daphne Dublanc. Other moments, of Fowles in The Magus with its sense of wondrous and sinister life-altering mysteries. Signatures in Stone is a capriccio ermetico you won't want to miss." Thomas Wilhelmus, The Southern Indiana Review
Praise for Lappin's first novel,The Etruscan
"Lappin's artfully written novel inhabits a supernatural landscape, but alludes subtly to hints of Etruscan culture … Lappin's gift for atmosphere places her amongst the finest writers of gothic art, not genre." The Southern Indiana Review
"Mystery, fear, betrayal and uncertainty abound as Harriet's story unfolds against the backdrop of Etruscan tombs and cemeteries. Influenced by D.H. Lawrence's travelogue Etruscan Places, Lappin elegantly brings the characters, Italian countryside and surroundings to life in vivid, engrossing prose." Kirkus Discovery Reviews
"The basic pleasure of this book lies in the suspension of disbelief, the heightened emotional urgency, the mystery, the lush and mystical scenery." Prairie Schooner
AUTHOR BIO: Linda Lappin, novelist, poet, essayist, and travel writer is the author of two award-winning novels. Her first, The Etruscan (Wynkin de Worde. 2004), a tantalizing suspense tale set in Italy in the 1920s, was runner up at the New York Book Festival and short listed for the 2011 Next Generation Indie Award. Her second,Katherine's Wish (Wordcraft of Oregon, 2008), based on the life of New Zealand writer, Katherine Mansfield, received the gold medal in historical fiction from the IPPY awards and was a finalist for the ForeWord Book of the Year Award in fiction. Signatures in Stone is her third novel. All three novels are also available on Kindle. Upcoming projects include a memoir, Postcards from a Tuscan Interior, sections of which won a Solas Award from Travelers Tales, and Genius Loci: A Writer's Guide to Capturing the Soul of Place,a craft of writing book. She teaches English at the University of Rome La Sapienza and lives in a pentagonal house in a medieval village near Rome.She is currently at work on a new Daphne Dublanc mystery, Melusine, set in the Italian village of Bolsena, another site of Etruscan legends. She holds an MFA from the University of Iowa Writers Workshop and is a member of the Associated Writing Programs (AWP) and of the European Association for Creative Writing Programs (EACWP)
Book Details
Title: Signatures in Stone
Author: Linda Lappin
Published by Pleasure Boat Studio
ISBN-10: 1929355904 ISBN-13: 978-1929355907
Trade Paperback Original • $18
250 Pages
Publication date: Apr. 15, 2013
Pleasure Boat Studio books are available through the following:
SPD (Small Press Distribution) Tel. 800-869-7553, Fax 510-524-0852
Partners/West Tel. 425-227-8486, Fax 425-204-2448
Baker & Taylor Tel. 800-775-1100, Fax 800-775-7480
Ingram Tel. 615-793-5000, Fax 615-287-5429
Amazon.com and bn.com
Signatures in Stone may also be ordered from
Pleasure Boat Studio
201 West 89th Street
New York, New York 10024
Click here to order Signatures in Stone from Small Press Distribution, Berkeley SPD