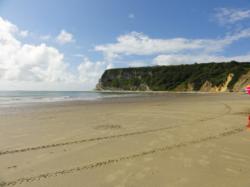 I'm glad the Awards have recognised what my family and I have known for years!
(PRWEB UK) 23 May 2013
Beaches in the Isle of Wight have been recognised for their high standards and water quality, meeting tough new EU standards to attain an 'excellent' rating and a Blue Flag award.
Mark Curtis, Managing Director of Wight Locations is not surprised, "I'm glad the Awards have recognised what my family and I have known for years! The Isle of Wight has some fantastic beaches, whether you're looking to build sandcastles, delve in rock pools, swim in the sea or walk along the shores. They're just one of the many things that make this Island so special.
We're very lucky to be living so close to these beaches, and I'm pleased to be able to say that our visitors can experience the same thing if they stay in one of our 50 waterfront properties. "
Wight Locations has more than 150 self-catering holiday cottages all around the Island, never far from an award winning beach such as Sandown, with its sandy shores and good facilities or Ventnor with its rock pools and clear waters. Yaverland beach overlooked by the chalk cliffs of Culver won was another Blue Flag winner as was the small sandy beach of Colwell Bay with its panoramic views of the Solent and Hurst Castle.
All of these beaches were also given Seaside Awards, along with beaches in Cowes, East Cowes, Springvale, Seagrove, Gurnard, Rye East, St Helens, Totland and Shanklin, bringing the total to 17 awards, four more than 2012.
Wight Locations offers holiday makers the ideal accommodation close to these award winning beaches – from the 5-star Montagu Apartment with its sea views to the Gold Award winning Eversley Apartment with its own 6 person hot tub and private roof terrace.
About Wight Locations Ltd
Wight Locations is a self catering holiday cottage company based in Seaview on the Isle of Wight, providing more than 150 quality coastal and rural properties across the Island.
Wight Locations is a member of Cottageline, a group of quality holiday cottage companies offering over 5,500 cottages throughout the UK.
For more information: contact the Wight Locations team on 01983 811418 or email enquiries(at)wightlocations(dot)co(dot)uk.