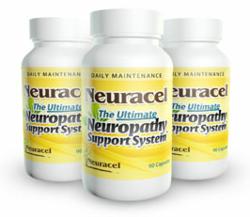 Boise, Idaho (PRWEB) May 24, 2013
According to the National Institute of Neurological Disorders and Stroke (http://goo.gl/FqQIJ), there are over 100 types of peripheral neuropathies and all of them have varying symptoms. Due to the many issues classified under the peripheral neuropathy category, doctors are often at a loss about the right kind of treatment for neuropathy. The treatments prescribed are most of the time not helpful at all and provide short term solution to the issue. Moreover, the medications prescribed such as anti-depressants and pain killers have side effects on their own and therefore are not viable solutions to opt for.
Neuracel - The Real Benefits
As far as the treatments for peripheral neuropathy are concerned, natural remedies seem to work better than do the treatments that doctors prescribe. However, these remedies are hard to get right, with the exact ingredients varying a lot of times. Neuracel, with the introduction of its natural treatment for peripheral neuropathy, has put the best features of these natural remedies and has come up with a treatment that not only works effectively, but also has no side effects.
With Neuracel, doctors can make use of a treatment that combines the best elements of both natural remedies and prescribed medication. On the other hand, while looking at things from the perspective of neuropathy patients, they no longer have to search for treatments and suffer from the needless side effects that exist. With Neuracel, both doctors and patients can benefit from the ultimate support system, a treatment that provides not only pain relief, but also actively works to repair the nerves and reduce the intensity of the symptoms.
Further Information Regarding Neuracel
Neuracel is the pioneer of neuropathy treatments and continues to make inroads in the fight against peripheral neuropathy. For detailed information about Neuracel's latest drug, the ultimate neuropathy support system, visit https://neuracel.com/specialoffer.php. For user reviews and special offers, visit https://neuracel.com.