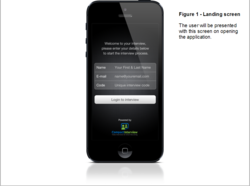 Candidates can simply record video interviews on their iPad or iPhone.
London, England (PRWEB UK) 23 May 2013
A new mobile app to be launched by video interviewing company, Compact Interview is set to improve recruitment decisions and enhance user experience by allowing candidates to record responses to interview questions using mobile technology.
Experienced HR professional and Compact Interview founder, Rupert Sellers will launch the app at the CIPD Recruitment Exhibition, London's foremost event for attracting, selecting and retaining talent.
As employers increasingly embrace video interviewing as a significant time-saving recruitment tool, Compact Interview helps improve candidates' experience by eliminating the need for scheduling phone screening and first round interviews. Candidates are more relaxed recording their responses to interview questions using familiar mobile technology, such as iPads and iPhones.
A successful recruiter for 12 years, Sellers launched Compact Interview from London's Tech City in 2013 to reduce the pain of scheduling interviews and screening calls. The service gives candidates an improved platform to present their soft skills in a less stressful environment.
"Compact Interview is an intuitive system and from June the candidate experience will be even slicker, enabling candidates to record their video interview on an iPhone or iPad," said Sellers.
In a study of 5,000 business owners in the UK, 85% of employers rated soft skills as the most important quality when hiring new staff. Video interviews can provide richer insight into a candidate's qualities, giving hiring managers extra confidence when selecting the best talent for face-to-face interviews.
"CVs are fine for outlining a candidate's experience but how we perceive someone on paper can be very different to the reality," commented Sellers.
"Asynchronous video interviewing provides quick insight on soft skills and avoids time wasting interview situations, when you know within two minutes that the person is not suitable for your organisation," continued Sellers.
With HR Zone reporting 70% of job seekers are now using smartphones to actively look for jobs, hiring managers realise they must provide a seamless experience in order to attract talent.
Compact Interview will be exhibiting at Stand R87 at the CIPD Recruitment Exhibition at London Olympia on 19-20 June 2013.
About Compact Interview
Rupert Sellers, CEO and Founder of Compact Interview is a graduate of Oxford Brookes University in Hotel Management. He spent 20 years working in luxury hospitality, including management roles with Ritz-Carlton and Four Seasons, before joining an established search firm in London and was board director for 8 years. In 2010, Sellers launched Barometa, a specialist recruitment company with an integrated and bespoke video interviewing system. This led to the development of Compact Interview which enables employers to screen candidates directly with customised video interviews. The privately held company is based in Shoreditch, London.