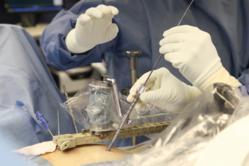 The technology is really amazing and it allows us to perform procedures in an outpatient setting safely and effectively.
Orlando, Fla. (PRWEB) May 23, 2013
Lakes Surgery Center, an ambulatory surgery center in West Bloomfield, Mich. offers state-of-the-art technology for back surgery with Mazor Robotics Renaissance in an outpatient setting for a quick return to daily life.
According to the American Chiropractic Association, more than 80 percent of Americans will experience back pain at some point in their lives. Some of the most common conditions that cause back pain are scoliosis, spondylolisthesis, degenerative disc disease, kyphosis, sciatica, spinal stenosis, and compression fractures.
"We started our spine program early 2012 and kicked it off by purchasing the Mazor Renaissance technology," says Lakes Surgery Center Administrator, Jennifer Butterfield. "The technology is really amazing and it allows us to perform procedures in an outpatient setting safely and effectively. I think even our physicians are amazed. We had one physician try to visit a patient in recovery a few hours after surgery only to find the patient had already gone home! I think we are putting the 'minimal' in "Minimally Invasive Surgery".
At Lakes Surgery Center, Renaissance is being used for a multitude of different procedures including endoscopic discectomy, spinal fusion, biopsy, and kyphoplasty.
Dr. Lucia Zamorano is one of the surgeons that utilizes Renaissance at Lakes: "The use of [Renaissance] helps us to optimize our spine surgical approaches. We are able to always find the best trajectory for any instrument, be it a needle or endoscope or other instrumentation. Patients benefit from the high precision of the surgery, smaller incisions, less complications and ultimately better outcomes. As surgeons, an added benefit is to minimize the amount of radiation exposure to us and the OR team."
Drs. Thomas E. O'hara, Hazem Eltahawy, Kevin R. Lee, and Miles Singer are also trained on the Renaissance system and have privileges at the center.
To learn more about Mazor Robotics Renaissance Guidance System, visit http://www.MazorRobotics.com, or attend the patient seminar being held at Lakes Surgery Center on Tuesday, June 11 at 6:00 pm.
About Mazor
Mazor Robotics, recently named one of The World's 50 Most Innovative Companies by Fast Company Magazine, offers advantages to patients and surgeons alike with Renaissance™, a surgical guidance system for spine and brain surgery. In the past year, the number of institutions in the US utilizing Renaissance has more than doubled.