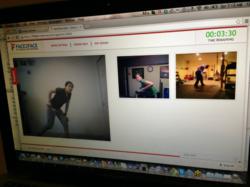 No longer do I have to worry if I'll leave work in time to make it to the gym…now, with F2F, my laptop is my gym whether at home or in my office
Warwick, NY (PRWEB) May 24, 2013
Advances in technology enhance our everyday lives, Face2Face Gym has introduced their company as a way to take that technology and make fitness and wellness easy, accessible and affordable. Common challenges on the road to better health and wellness are avoided with their online, interactive service.
Time constraints, high fitness center fees and the apprehension of working out in a traditional gym environment are among the chief complaints from the new wave of online fitness fans.
Jill, a new member comments: "No longer do I have to worry if I'll leave work in time to make it to the gym…now, with F2F, my laptop is my gym whether at home or in my office".
Co-Founders Barb McElnea and Brandon Iurato agree that an important factor in designing the business model of Face2Face Gym was the desire to help members work out and get fit in a way that works for them.
"For me, an illness prevented me from being able to workout in a regular gym. It's been our mission to help people find better solutions to their fitness and nutrition problems". McElnea says.
About Face2Face Gym, LLC
Face2Face Gym™ is an interactive virtual gym that allows members to participate in fitness and nutrition classes worldwide. Their program offers flexibility to members, as they can participate in a group or one-on-one personal session with a fitness professional or nutritionist of their choice. Fitness programs are offered for special populations including unconditioned and unwell. Face2Face Gym assists members in learning to make smarter eating choices while exploring new time-efficient ways to exercise.
More information is available at: http://www.F2FGym.com or http://www.facebook.com/Face2FaceGym.