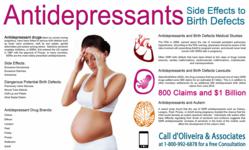 (PRWEB) May 23, 2013
During pregnancy both the health of the mother and the growing fetus are affected by medical treatments, especially medication. In July 2006, a study published by the New England Journal of Medicine prompted the FDA to warn about a potential link between certain antidepressant drugs and serious birth defects such as persistent pulmonary hypertension and other malformations (i). The FDA specifically warned about selective serotonin reuptake inhibitor (SSRI) drugs. SSRI antidepressants are widely prescribed to treat conditions like anxiety, depression, and obsessive compulsive disorder. SSRI drugs include Celexa, Lexapro, Paxil, Prozac, and Zoloft. Prozac was the first on the market in 1987 and approval for other antidepressants followed shortly after.
Initially, the FDA was concerned about women who were pregnant or planning to become pregnant because the study published in the New England Journal of Medicine suggested that antidepressant use could pose a risk if taken during the early stages of pregnancy. The FDA's concerns were validated by another study published in the same journal in June 2007. The study sampled 10,000 infants born with birth defects and approximately 6,000 healthy infants. Researchers found that women who took Zoloft (sertraline) in the early months of pregnancy had twice the risk of having a baby born with a heart defect. Additionally, women on Paxil (paroxetine) had over three times the risk (ii).
The FDA has since asked drug manufacturers like GlaxoSmithKline (GSK) to strengthen the warning of these antidepressants. According to a Bloomberg Report from July 2010, GSK has settled approximately 800 birth defect claims for an estimated $1 billion (iii). The antidepressant informational graphic describes this settlement as well as providing information on two medical studies. Find out more about the factors you should consider when taking antidepressants during pregnancy by visiting the antidepressant webpage and viewing the antidepressant infographic: Antidepressant Infographic.
If you or a loved one has taken antidepressants during pregnancy and delivered a child with birth defects such as persistent pulmonary hypertension, heart valve problems, or other malformations, you should find an experienced personal injury lawyer who can file an antidepressant lawsuit on your behalf. d'Oliveira & Associates is working with some of the more experienced antidepressant lawyers in the country who will work to help you obtain an antidepressant settlement or an award. Feel free to contact our law offices anytime at 1-800-992-6878.
Links:
(i) FDA Public Health Advisory, July 2006. http://www.fda.gov/Drugs/DrugSafety/PostmarketDrugSafetyInformationforPatientsandProviders/DrugSafetyInformationforHeathcareProfessionals/PublicHealthAdvisories/ucm124348.htm
(ii) US News Article, June 2007. http://health.usnews.com/usnews/health/articles/070627/27antidepressant.htm
(iii) Bloomberg Report, July 2010. http://www.bloomberg.com/news/2010-07-20/glaxo-said-to-have-paid-1-billion-to-resolve-paxil-birth-defect-lawsuits.html