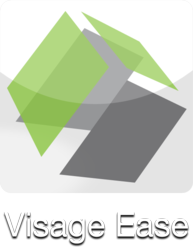 We've enhanced Visage Ease using customer feedback as our guidepost. Radiologists and referring physicians want mobile imaging access that's simple, with no training.
San Diego, CA (PRWEB) May 23, 2013
Visage Imaging Inc., a wholly owned subsidiary of Pro Medicus Ltd. (ASX: PME), announced today that they have released Visage Ease (sm) version 1.3.0, available on the Apple App Store*. When used in tandem with the Visage® 7 Enterprise Imaging Platform, Visage Ease provides authorized healthcare providers simple mobile access to imaging results using iPhone, iPad or iPod Touch iOS devices.
In addition to numerous enhancements and performance improvements, Visage Ease 1.3.0 supports the iOS Notification Center to display alerts when studies meet the user's search criteria. Creation and management of notifications in Visage Ease is as simple as searching for studies a user wants to be informed of (e.g., today's CT studies, from facility 'x', with a label of 'stroke') and then via the mobile user interface, activating notifications for that particular search. When studies on the Visage 7 server match the search criteria, a PHI-free notification is sent to the user's iOS device.
Visage Ease 1.3.0 also includes the ability to attach images (either saved on the device or captured with the device's camera) to imaging studies on Visage 7. Mobile users now have a simple means of uploading non-DICOM images to imaging studies. After the images have been uploaded to Visage 7 from the mobile device, all appropriately authorized users of Visage 7 have access to the new images alongside the DICOM images. When multiple images are attached at the same time, they are displayed in the same Visage 7 viewport, and are presented as a single series of images.
"We've enhanced Visage Ease using customer feedback as our guidepost," said Dr. Sam Hupert, Chief Executive Officer, Visage Imaging and Pro Medicus. "Radiologists and referring physicians want mobile imaging access that's simple, with no training. That's why we adopted push notifications, because it's a workflow nearly everyone already understands, and it helps to improve usability when users are mobile."
Dr. Hupert continued, "Enterprise imaging has expanded beyond traditional modalities, and our customers encouraged us to think beyond the basics. They helped us to imagine non-DICOM image workflows that have the potential to improve patient care, for example, photos taken for line placement, wound care at the bedside, trauma-related reconstruction procedures in the OR, and emergent orthopedic presentations in the ED. When these non-DICOM images are viewed with diagnostic images on Visage 7, they have the potential to add clinical insights and improve radiologist interpretations. Imaging is no longer restricted to the four walls of the radiology department, and with Visage Ease, we're right there supporting our customers."
Please join Visage Imaging and learn more about Visage Ease and the Visage 7 Enterprise Imaging Platform at the upcoming SIIM 2013 Annual Meeting, Grapevine-Dallas, TX, June 6-9, 2013 at Booth 610. While at SIIM, plan on joining the following Visage Imaging speakers during the conference:

Applied Learning Vendor Tie-In Session: Who Do You Turn to for Help in Developing Solutions?" Friday, June 7, 1:15 pm – 2:45 pm – Brad Levin, MBA (General Manager, North America, Visage Imaging)
Innovation Theater Session: "Advanced Image Analysis: The Vendor Perspective" Friday, June 7, 2:45 pm – 3:45 pm – Tim North, ASN (Senior Clinical Product Specialist, Visage Imaging)
*Note: Visage Ease is not a medical device and should not be used for diagnosis. Push notifications and image attachments are supported when Visage Ease 1.3.0 is used with Visage 7 version 7.1.3.
About Visage Imaging, Inc.
Visage Imaging is a global provider of enterprise imaging and advanced visualization solutions for diagnostic imaging. Visage 7 delivers amazingly fast server-side rendered images streamed via an intelligent thin-client viewer. Radiologists and referring physicians have a customized, protocol-driven workflow to natively view 2D, 3D, 4D and advanced visualization imagery across a single desktop. Powerful imaging solutions include enterprise viewing and interpretation; image enablement of EMRs, VNAs, HIEs and portals; RIS/PACS, as well as anywhere mobile access. http://www.visageimaging.com
About Pro Medicus Limited
Pro Medicus Limited [ASX: PME] is Australia's leading medical IT and e-health provider. Founded in 1983, the company provides a full range of integrated software products and services to hospital, imaging centers and health care groups worldwide. http://www.promedicus.com
# # #
Contacts:
Brad Levin, General Manager, North America and Vice President, Global Marketing
Visage Imaging, Inc./ Pro Medicus Limited
Phone: (703) 858-5758 or (540) 454-9670
E-mail: blevin (at) visageimaging (dot) com
Visage, Visage Imaging and Visage Ease are registered trademarks and service marks of Pro Medicus Limited. Other product and company names mentioned may be trademarks and/or registered trademarks of their respective holders.