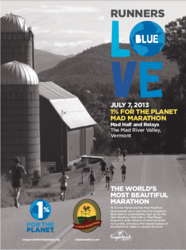 We can't think of a better way or setting to have our network celebrate ten years of giving back to Blue.
Waitsfield, VT (PRWEB) May 23, 2013
This July, Vermont's Mad River Valley will host "The World's Most Beautiful Marathon" the Mad Marathon, a 1% for the Planet event. While Sunday, July 7 is the official race day, the whole weekend is turning into a can't miss summer event. The most recent additions to the weekend's lineup include 1% for the Planet ambassadors Stephen Ritz, founder of Green Bronx Machine, and Dwight Ritcher and Nicole Nelson, both musicians and Vermont natives -- Nicole is well known for her stint on the third season of "The Voice". "Dwight and Nicole" will perform on Friday, July 5 and Ritz will speak about his experience teaching students how to grow vertical 'living walls' on July 6th.
Ritcher, Nelson and Ritz are new to the 1% for the Planet family, and excited to be ambassadors as 1% for the Planet celebrates its 10th year.
"Dwight and I are looking forward to performing at an event that does so much good, both for the environment and local and regional communities," said Nelson. Ritz added, "The Green Bronx Machine is thrilled to come to the Green Mountain State to celebrate our commitment to 1% For the Planet; proof that no matter where you live, work and play, together, we can all make a difference!"
In addition to speeches, musical performances and the official marathon, the weekend will host a fun run for kids and showcase 1% for the Planet's hometown of Waitsfield, offering participants the chance to enjoy the local Farmer's Market and cuisine on Saturday before the race.
"We are so honored to have Stephen, Dwight and Nicole join us for this year's Mad Marathon and the celebration of our 10th year," said Terry Kellogg, CEO of 1% for the Planet. "The 1% for the Planet family is big and continues to grow, adding nonprofits, businesses, ambassadors and media partners. This event allows us to highlight all of these different groups that come together through our network to make good. Honestly, we can't think of a better way or setting to have our network celebrate ten years of giving back to Blue."
1% for the Planet announced its partnership with the Mad Marathon earlier this year, making the third annual Mad Marathon the first marathon dedicated to environmental sustainability. All funds raised by the 1% for the Planet team will be split among three nonprofit partnerships: The Staying Connected Initiative, The Bay Circuit Trail and The Penobscot River Restoration. 1% for the Planet New England nonprofit partners also have the opportunity to create individual teams and raise funds for their organization.
For more information about how to contribute, please visit http://www.crowdrise.com/1percentFTPmadmarathon2013
###
About 1% for the Planet
Started in 2002 by Yvon Chouinard, founder of Patagonia, and Craig Mathews, owner of Blue Ribbon Flies, 1% for the Planet is a platform of credibility and engagement for environmentally conscious brands that are truly committed to making a positive impact with their business. This global movement of more than 1200 member companies in 48 countries donate one percent of annual sales directly to approved environmental organizations worldwide. To learn more go to: http://www.onepercentfortheplanet.org.