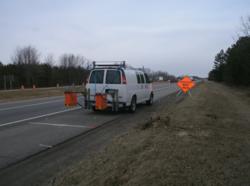 Resource International, Inc. collected GPR data using innovative dual air-launched antennas mounted to the back of a moving vehicle.
Columbus, OH (PRWEB) May 24, 2013
Little did Resource International, Inc. (Rii) know that a study conducted almost six years ago for quality control measurements on new asphalt overlays would open the door for this kind of innovative study to be more widely used today.
Rii conducted a study six years ago on a residential area road in Columbus, Ohio to investigate the use of Ground Penetrating Radar (GPR) for quality control measurements on new asphalt overlays. Now, the use of GPR is widely used across the country today, and Rii is one of the few firms in the country qualified to perform these services.
In the initial study that took place, GPR data was collected using dual air-launched antennas mounted to the back of a moving vehicle (Figure 1). The 26-foot wide road was scanned at intervals of 2-inch longitudinally and 2-foot transversely. A typical GPR scan is shown in Figure 2.
According to the U.S. Asphalt Institute, the air void content for compaction of asphalt pavements should be controlled between 7 percent and 3 percent. Once voids reach 8 percent or higher, interconnected voids can develop which allow air and moisture to permeate the pavement which reduces the durability of the pavement. On the other hand, if air voids fall below 3 percent, there will be inadequate room for expansion of the asphalt binder in hot weather, and when the void content drops to 2 percent or less, the mix becomes plastic and unstable.
Presently, core samples are the most commonly used technique for quality control measurement on new asphalt overlays. However this technique has its limitations and the results have not always been acceptable. GPR can be considered as a better alternative to coring since it is nondestructive, can be performed without closing lanes to traffic, and principally provides continuous information and 100 percent coverage of the entire pavement.
The technique used to measure the air void content is based on the calculation of the dielectric values of the asphalt pavement. A dielectric constant of a material is an electrical property which is most influenced by the density of the material. A strong correlation exists between air void content and the surface dielectric of the pavement. The dielectric values are computed in the field by measuring the amplitude of GPR surface reflection and the reflection obtained from a metal plate. An increase in void content will result in lower dielectric values of asphalt. Instead, a decrease in air void content in the asphalt mix will cause an increase in asphalt dielectric. The method included taking some calibration cores and determining their void content in the lab. The data was also used to evaluate the GPR accuracy for pavement layer thickness determination.
The graph of Figure 3 shows a strong correlation between air void content and the dielectric constant of the asphalt overlay. Air void contents of miles of roadways can be evaluated by simply measuring the amplitude of the reflected GPR signal in the field and converting it to surface dielectrics. A few cores are needed to determine a relationship between the percentage of air void and the dielectric constants. The results are best reported on colored contour maps which give a general view of void content values (Figure 4). The GPR survey can take place right after paving to identify locations with low asphalt density.
About Resource International, Inc.
Resource International, Inc. (Rii) is a broad-based, multi-disciplined professional engineering consulting firm specializing in construction management, information technology and planning and design of building and infrastructure projects valued in excess of $1 billion annually.
This family-run business has evolved over the years to assist public and private clients in finding optimum solutions to improve their environment and infrastructure. Our specialized equipment, technology and resources offer the best solutions.
Companywide, Rii has more than 150 employees engaged in transportation planning, design, and construction services. Rii's Corporate Office is located in Columbus, Ohio, with full-service branch offices in Cleveland and Cincinnati, Ohio; Pittsburgh, Pennsylvania; and Indianapolis, Indiana.