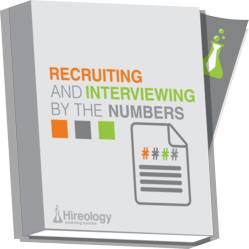 This new eBook gives them a run-through of key facts and statistics needed to make more qualified hiring decisions without having to spend a lot of time researching the information.
-- Michael Richter, customer success manager
Chicago, Ill (PRWEB) May 23, 2013
Hireology, a leading selection management platform, has announced the release of a new eBook titled "Recruiting and Interviewing by the Numbers." Highlighting the latest trends and statistics in the hiring process, this guide aims to support companies looking to make new hires.
Starting with a broad overview of trends in social recruiting and mobile-based job searches and moving to the most common interviewing practices and techniques, "Recruiting and Interviewing by the Numbers" was published to assist professionals with growing hiring needs.
"Many of our clients don't have an extensive background in interviewing and hiring," said Michael Richter, Hireology's customer success manager. "This new eBook gives them a run-through of key facts and statistics needed to make more qualified hiring decisions without having to spend a lot of time researching the information."
This guide is a follow-up to an eBook published by Hireology earlier this year titled "Hiring by the Numbers." To download part two of the series, please click here.
About Hireology
Hireology's award-winning Selection Management System helps companies organize their hiring process and leverage data to make better hiring decisions. Franchise systems, banks and financial institutions, healthcare systems, dealer networks, and other multi-site operators use Hireology's web-based Selection Manager™ to deliver consistent and repeatable hiring decisions in the field - leading to better hiring decisions, lower turnover, and increased profitability per location. For more information, please visit http://www.Hireology.com.