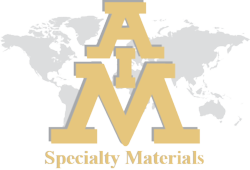 Cranston, RI (PRWEB) May 23, 2013
AIM Specialty Materials, a global leader in the manufacture of solder assembly materials, will be exhibiting in Booth #1510 at the IEEE MTT International Microwave Symposium 2013, scheduled to take place on the 4th - 6th of June, 2013 in Seattle, Washington.
AIM will be highlighting AuSn, AuGe, indium and lead-free solders for the assembly of microwave and opto-electronic components. AIM Specialty Materials specializes in alloys of indium, tin, lead, bismuth, cadmium, gold and gallium for a wide range of joining applications. These materials come in a variety of forms, including preforms, wire, foil & ribbon, seals, pastes, chemicals and compounds.
To discover all of the products AIM Specialty Materials offers, including indium and lead-free solders, visit them in booth #1510 at IEEE MTT IMS 2013 or visit aimspecialty.com.
About AIM Specialty
AIM manufactures and supplies solder and braze materials for the electronic, microwave, semiconductor, LED, and photonic industries. Our innovative products and technical support helps our customers to achieve the highest quality and yields in their production processes.
About AIM
Headquartered in Montreal, Canada, AIM Solder is a leading global manufacturer of assembly materials with manufacturing, distribution and support facilities located throughout the world. AIM produces advanced solder products such as solder paste, liquid flux, cored wire, bar solder, epoxies, lead-free and halogen-free solder products, preforms, and specialty alloys such as indium and gold for a broad range of industries. A recipient of many prestigious SMT industry awards, AIM is strongly committed to innovative research and development of product and process improvement as well as providing customers with superior technical support, service and training.
For more information about AIM, visit http://www.aimsolder.com.