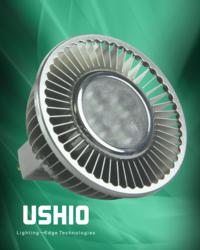 Uphoria's Cool-Blade™ technology was originally developed for the aerospace industry and the military...
Cypress, CA (PRWEB) May 25, 2013
USHIO America's Solid State Lighting Group, a leader in the specialty and general lighting marketplaces, announced the launch of its new LED MR-16 series called Uphoria™ which replaces higher wattage halogen MR-16 Lamps.
Uphoria LED MR-16 lamps incorporate the highest quality Cree LED's, a customized optical design, and special thermal management characteristics that provide energy efficiency, long life, and reliable quality.
At 6.5 watts in a standard MR-16 form factor, Uphoria LED lamps incorporate a state of the art Cool-Blade™ heat sink design that guarantees reliability and stability through proper thermal management. Uphoria's Cool-Blade™ technology was originally developed for the aerospace industry and the military and as way of providing superior heat transfer for computer servers and intricate electronics that require premium thermal management in a very lightweight product. This same technology is incorporated into every Uphoria MR-16 lamp where 48 individual, high-density aluminum cooling blades draw damaging heat away from the LEDs creating an ideal operating environment for the chipsets.
USHIO stands behind the high performance with a 3 year warranty and a rated life of 35,000 hours. Rated at more than 10 times the life of standard halogen MR-16 lamps on the market today, Uphoria is the intelligent choice for those applications where frequency of lamp changes and cost of ownership are significant factors.
Uphoria LED MR-16 lamps are available in Flood (35 degree) and Wide Flood (60 degree) beam spreads and in warm white (3000K) or daylight (5700K) color temperatures.
For more information on the Uphoria™ LED MR-16 lamp series or any of the other lighting-edge technologies from USHIO America, Inc., visit http://www.USHIO.com or call 800-776-3641.
About USHIO America, Inc.
USHIO America, Inc. is a leading manufacturer of Specialty and General Illumination lighting solutions based in Cypress, California. Established in 1967 as a subsidiary of USHIO Inc, in Tokyo, Japan, USHIO now carries over 3,500 General Lighting and Specialty products. These Lighting-Edge Technologies™ are provided to a variety of industries such as general illumination, audio-visual, photographic, stage, studio and television, semiconductor, printed circuit, video projection, cinema, UV curing, germicidal, horticulture, graphic arts, flashlight, scientific, medical, dental, ophthalmic, infra-red heating, and many others. Visit http://www.USHIO.com for further information.