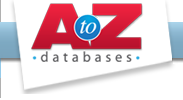 San Mateo, CA (PRWEB) May 23, 2013
AtoZdatabases, the leading provider of reference & marketing databases and job searches for public libraries, academic institutions, and government agencies, is proud to announce that its database of over 2.3 million jobs is a hit among library patrons nationwide this month, helping them to find job listings, research companies, and take advantage of helpful resume templates and interview tips all in one place.
The 'Find a Job' search from AtoZdatabases offers job seekers more advanced selections and resources than any other job source. Library patrons can search by not only keywords, but also by popular industries such as finance, sales, retail, human resources, insurance, and more. They can also narrow their search even further by choosing only full-time jobs, or enter a salary estimate to target by how much they would like to earn.
Once patrons find a job that catches their attention, they can research the company easily through the AtoZdatabases application and even find the names and email addresses of the company's executives. Furthermore, they can easily view all of the jobs posted by that company. When they are ready to begin their application process, they can take advantage of the helpful resources provided by AtoZ, such as tips for resume preparation, what to wear in the interview, and questions to ask the interviewer.
"We make every effort to give our patrons exactly what they need when they are in the process of looking for a job," says Rakesh Gupta, President of AtoZdatabases, "With our one-stop shop, they can find the job listings and information that they need in less time than with traditional job websites."
For a FREE 30-Day trial of AtoZdatabases, please call toll-free at 877-428-0101 or email Sales(at)AtoZdatabases(dot)com.
About AtoZdatabases:
AtoZdatabases, powered by DatabaseUSA.com, is a leading provider of job searches, reference, and marketing databases for public libraries, academic institutions, and government agencies across the United States.