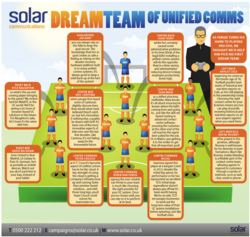 Considering football was all that anyone in the office seemed to be able to talk about over the last couple of weeks, I thought I'd set a task which would tie the two worlds together
Chippenham (PRWEB UK) 24 May 2013
Solar Communications has released a new graphic in response to the close of the football season. The unified communications company, based in Chippenham, decided to take a tongue-in-cheek look at the similarities between the football world and the unified communications industry by creating a 'Dream Team' of football players who mirror the necessary skills needed in creating a complete unified communications solution.
"Considering football was all that anyone in the office seemed to be able to talk about over the last couple of weeks, I thought I'd set a task which would tie the two worlds together. It was a great way to get the office to think creatively and let them get away with talking football, all whilst keeping their concentration focused on the industry," says Jonathan Moran of Solar Communications.
The Dream Team graphic jokes that Alex Ferguson is likely to be spending his days on Pro-Evo now that he has retired and Solar Communications have made some suggestions for his 'Dream Team' featuring players from van Persie to Rooney.
The player line-up refers to the skills often associated with players in certain positions, and how this relates to key components of unified communications. Joe Hart, for example, is in place as goalkeeper and refers to the need to ensure a strong disaster recovery system is in place in any unified communications solution. Beckham, on the other hand, is compared to the growing rise in mobile solutions, a nod to his time spent playing for teams such as United through to LA Galaxy, and more recently Paris St. Germain.
Solar Communications are an award-winning unified communications company, who have been recognised for their dedication to customer service and growing performance. They offer a wide range of services in the realm of unified communications, from consultancy to project management, installation to after-support.
Notes for editors:
About Solar Communications
Solar Communications Ltd is an award-winning, customer-focused provider of industry leading solutions, suitable for businesses of any size that embrace Unified Communications, LAN, Network Services and Mobile Solutions.
Founded in 1988, it later opened an office in London in 2011, and has more recently acquired Salford-based Armstrong Communications, earlier this year.
Website: http://www.solar.co.uk/