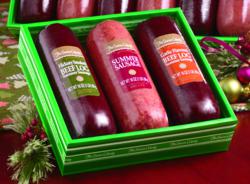 Providing quality meats and nuts at affordable prices for Father's Day is our specialty this time of year.
Monroe, Wisconsin (PRWEB) May 29, 2013
With Father's Day around the corner, dads may be interested to know that The Swiss Colony founded in 1926 by Ray Kubly continues to be family owned. In fact, the company is guided by Ray's son Pat Kubly, who is Chairman of the Board. Both the Kubly family and Colony Brands, Inc. as a whole continue to dedicate themselves to their customers, employees and direct the marketing goals set by Ray more than 85 years ago.
A great choice for guys who love meat is the Sausage Assortment. Starting at $36.95 is a "Gift of 3" which includes Summer Sausage, original and Garlic BEEF LOG Sausages that are one- pound each. Gifts of four and six sausages are also available.
For dads who love hunting or the taste of game, the Wild Game Meat Sticks, $29.95, pack plenty of flavor. Each box includes seven sticks of savory beef- and pork-blended Venison; beef-blended Elk; and beef-blended Bison.
If crunch is more his speed, pick from his favorite type of nuts. Tins packed with Deluxe Mixed Nuts range from $18.95 to $48.95. These colossal sized nuts include roasted and salted cashews, almonds, pecans, and peanuts. An unsalted version is also available.
Natural Pecans are $22.95, Jumbo Cashews are $19.95 - $69.95 and In-Shell Pistachios come in two tin sizes ranging from $23.95 - $39.95.
If he loves hot foods, consider giving the Hot Spicy Cajun Mix, $14.95, which is a blend of Peanuts, Sunflower Seeds, Almonds, Hot Cajun Corn Sticks, Sesame Sticks, and Pepitas. Or the Jalapeño Beef Log, $14.95, may be just the snack he's craving.
"Quality meats and nuts at affordable prices for Father's Day is our specialty this time of year," explains Becky Henke, VP of Food at The Swiss Colony.
For the complete line of Father's Day gifts and more, shop online at http://www.swisscolony.com.
About The Swiss Colony
The Swiss Colony is a family-owned Wisconsin company that has been creating food gifts for more than 87 years. The company insists on the highest quality ingredients for a large selection of festively packaged gifts for every occasion. Exclusive recipes developed by European Master Bakers and hand-decorated novelties like no other are just two of the reasons customers include The Swiss colony as part of their holiday traditions year after year.