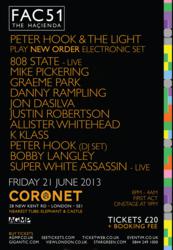 The Hacienda's second London event in two decades, with The Light and 808 State Live, DJ's include Park & Pickering, Danny Rampling, Jon Dasilva and more
(PRWEB UK) 24 May 2013
Legendary DJ partnership Graeme Park and Mike Pickering playing together at the top of the bill for the first time in London in many years, joined by a line up of names synonymous with The Hacienda including the Capital's own Danny Rampling, Jon Dasilva, Justin Robertson, Allister Whitehead, K Klass, Peter Hook (DJ Set) and Bobby Langley.
To celebrate the event and the recent 31st Birthday of The Hacienda, Jon Dasilva has done a special acid house mix of Hacienda classics which is linked below:-
https://soundcloud.com/hacienda-records/jon-dasilvas-hacienda-31st
Peter Hook And The Light perform a unique "New Order Electronic Set", joined by original techno pioneers 808 State and Hacienda Records' Super White Assassin, all fully live in the early part of the evening.
The Light received great critical reactions for their sold out London debut in January, performing "Movement" and "Power, Corruption & Lies" in full. For The Coronet show,
The Light are to play a more electronic derived set including the classics "Everything's Gone Green", "Temptation". "Blue Monday". "586" and more.
Also playing live in London for their first time since January 2012, 808 State will delve into their extensive repertoire, including such tracks as "Pacific State", "In Yer Face" and "Cubik" as well as airing lesser known and brand new material in their live set, whilst Hacienda Records' hotly tipped Super White Assassin open up for both.
With the highest standards of sound and lighting set for the event at The Coronet and only The Hacienda's second London event in twenty years, Hacienda London in June looks to be marked out as THE club and live event of the summer.
For advance tickets for The Coronet check here – http://bit.ly/12KPTRe
The facebook event for Hacienda London, Friday 21st June is here – Advance Tickets - http://on.fb.me/Y8Shzz
Other upcoming Hacienda events in June 2013 see an aftershow for the Stone Roses return to Glasgow on Saturday 15th June with Mike Pickering, Graeme Park, Peter Hook and Bez. am event at Scarborough Spa Grand Hall, the day following London, Sat 22nd June with Graeme Park, Peter Hook, Bez and Vince Vega.
Also The Hacienda returns to Leeds the week following, the last Saturday 29th June for a special coming together of two of the North's best club city's at the infamous Leeds Warehouse with promoters SHINE which sees Alison Limerick perform a Live PA alongside FAC 51 DJ's - Mike Pickering, Allister Whitehead, Tom Wainwright Luvdup , Ian Ossia and Shine DJ's Graham Dixon, Mark Holliday, Gary Dabill, James Noon, and Jamie Richardson
For full details of all events check http://www.fac51thehacienda.com