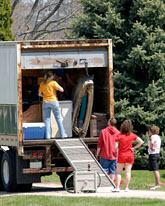 (PRWEB) May 30, 2013
By using this program, the company has successfully managed to bring in more customers who are attracted to the entire moving trucks for rent process, because it is much simpler and accessible for them to use. Furthermore, customers don't have to waste time by downloading any applications, instead, all they have to do is go to the company's website and search for quote. All this can now be achieved through their new mobile-friendly feature.
This innovation comes as a response to the large number of customers who have been anxiously waiting for the launch of such a program. They no longer have to worry about researching time and get caught up in the long lists of truck rentals options on the market. A free quote can be given to them by only accessing the company's site and make a simple request.
By doing so, not only do they save a lot of time and energy, but they also have the opportunity of putting aside overwhelming documentations and other such detailing. Furthermore, the programs available on the website make it easier for customers to receive offers similar to their situation in just a matter of seconds. The competitive moving companies' fight for client renting deals, which mean that customers will receive lower rate terms and discounts for their offer.
The CEO of Movingtruckrental.com, Calvin Davis, explains how important it is to have satisfied customers and how the company can provide them with professional services: "When customers are moving, they need to accomplish so many things within a very short period of time. From taking care of incoming mail to managing new rentals, the number of items on the "to do list" are simply never-ending. Due to time constraints, customers often do not spend an adequate amount of time to research moving truck rentals and end up choosing the wrong companies or irresponsible providers. Our website has been helping connect customers with service providers for over eight years. Just a few simple clicks facilitate the overall process of connecting both parties. We have taken this a step further now and with our latest mobile-friendly platform, our site's users can accomplish their research in thirty seconds flat -- that too from their cell phones."
The company has managed to provide moving trucks for rent to a large number of customers for a period of over eight years. During this time they have offered the most qualified services and, with the help of their new mobile-friendly website, they have proven once again, that professionalism always comes first.
To find out more about this subject and about the company please visit: http://www.movingtruckrental.com/moving-truck.html.