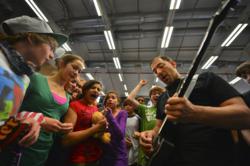 So far, my USO tour has been more than I ever could have imagined," said Marks. "I have met so many wonderful people and learned so much about our nation's military....
Arlington, VA (PRWEB) May 23, 2013
Twitter Pitch: @damonmrks and @travelingguitar urge public to visit http://www.uso.org/alwaysbytheirside and to support @the_USO during tour to Germany
Accomplished musician and Traveling Guitar Foundation (TGF) founder Damon Marks celebrates our nation's service heroes by spreading the sound of music to troops and their families on a USO tour to Germany. In Europe to boost troop morale and remind military families the USO is always by their side, Marks is spending a week with the USO talking to troops and their families, and performing songs off his new album "Back To Good." He is being joined by fellow musicians Oz Fox, guitarist for the Christian rock band Stryper, Allen Steelgrave and Patrick Stone of the band Steelgrave, and R&B artist Derek McKeith.
Details:

In total, Marks and his team have uplifted the spirits of 750 U.S. troops, military families and school faulty. Among the places visited were, Patch High School on U.S. Army Garrison Stuttgart, the USO Warrior Center, Ramstein Air Base and U.S. Army Garrison Wiesbaden, among other locations.
During the visit, the group also toured Landstuhl Regional Medical Center and the Contingency Aeromedical Staging Facility (CASF) as well as dined with and performed for troops.
Kicking off the tour on a high note, Marks formally announced a donation of countless Schecter electric acoustic guitars, EMG pickups and Mogami cables, along with accompanying study guides, to several Department of Defense Dependents Schools, the USO Warrior Center and the CASF in Germany.
In early 2013, Marks and the TGF donated guitars to the USO's brand new, state-of-the art USO Warrior and Family Care Center's Music Room at Fort Belvoir - which opened in February 2013 to help our wounded, ill and injured troops and their families continue to heal.
A seasoned performer, Marks began playing the guitar when he was just ten years old. Since then, he has utilized his musical abilities in tandem with his business savvy to achieve tremendous success in the music industry. Best known for his inspired guitar chops and philanthropic work, Marks has collaborated with many notable artists including Alicia Keys and Michael Bolton, among others.
In 2010, Damon founded the Traveling Guitar Foundation, which provides musical equipment and support for school systems that are struggling to finance their music education programs. With Damon at the helm, the Foundation has worked diligently to ensure that school children have access to high-quality musical instruments and instruction.
Quote:
Attributed to Traveling Guitar Foundation founder/guitarist Damon Marks:
"So far, my USO tour has been more than I ever could have imagined. I have met so many wonderful people and learned so much about our nation's military. Perhaps the greatest take away has been that no matter what you do or how much you give, no gift is too great or too small for our nation's heroes. I am so glad I came and I can't wait to go back out again."
Multi Media:
USO Tour Photos: http://bit.ly/16Qt95Z
USO Fact Sheet: http://bit.ly/Y3YoUi
About the USO
The USO lifts the spirits of America's troops and their families millions of times each year at hundreds of places worldwide. We provide a touch of home through centers at airports and military bases in the U.S. and abroad, top quality entertainment and innovative programs and services. We also provide critical support to those who need us most, including forward-deployed troops, military families, wounded warriors and families of the fallen. The USO is a private, non-profit organization, not a government agency. Our programs and services are made possible by the American people, support of our corporate partners and the dedication of our volunteers and staff.
In addition to individual donors and corporate sponsors, the USO is supported by President's Circle Partners: American Airlines, AT&T, Clear Channel, The Coca-Cola Company, Grand Canyon University, jcpenney, Jeep, Kangaroo Express, Kroger, Lowe's, Northrop Grumman Corporation, Procter & Gamble and TriWest Healthcare Alliance and Worldwide Strategic Partners: BAE Systems, The Boeing Company, Lockheed Martin, Microsoft Corporation and TKS Telepost Kabel-Service Kaiserslautern GmbH & Co. KG. We are also supported through the United Way and Combined Federal Campaign (CFC-11381). To join us in this patriotic mission, and to learn more about the USO, please visit uso.org.