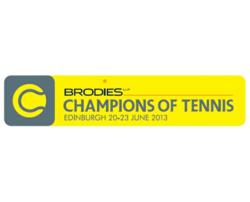 (PRWEB UK) 24 May 2013
David Lloyd Leisure is delighted to announce that it is the official racquets, health and fitness partner for Brodies Champions of Tennis, part of the ATP Champions Tour, next month in Edinburgh.
To celebrate the partnership, Europe's premier health, sports and leisure group will give its Edinburgh members the chance to win once-in-a-lifetime prizes and tickets to watch the live matches. Plus there will be special offers to tennis lovers and fitness fans who want to enjoy a taste of the David Lloyd Leisure experience!
Throughout June, the David Lloyd Leisure clubs of Edinburgh and Edinburgh Newhaven will celebrate the Brodies Champions of Tennis tournament, which runs from 20-23 June.
As part of the partnership, eight lucky members will be given an opportunity to play some shots, get advice on technique and chat with two of the ATP Champions tennis legends at David Lloyd Edinburgh on June 21.
The champions include John McEnroe, Tim Henman, Goran Ivanisevic, Carlos Moya, Thomas Enqvist, Wayne Ferreira, Mikael Pernfors, Greg Rusedski and Mark Philippoussis, who will battle out old rivalries in a purpose-built arena in Stockbridge, Edinburgh, to be crowned champion.
Five David Lloyd Leisure members will win a pair of free tickets to watch the live matches plus there will be a discount on offer to see the legends play at the prestigious ATP event.
David Lloyd Leisure will also offer free one-day passes to non-members for its five Scottish clubs in Dundee, Edinburgh, Edinburgh Newhaven, Glasgow West End and Glasgow Renfrew, which have 63 courts between them, and an opportunity to win a six-month club membership.
David Lloyd Leisure's Scotland area manager, Hugh Cameron, said: "With our unrivalled premium racquets facilities and expertise, we are delighted to be part of bringing such a star-studded event to the heart of Scotland. It's one of the highlights in any tennis lover's diary and a perfect chance to see world-class tennis stars in action."
The ATP champions Tour is a tennis circuit of World No. 1 players, Grand Slam champions and finalists, and Davis Cup winners, and has been enjoyed in cities all around the world.
Viki Mendelssohn, tournament director, said: 'Our plans for the event are coming together well and I'm delighted to welcome David Lloyd Leisure to our team. The brand is very strong in Scotland and their own exciting promotional campaign supporting the event offers us a further unique opportunity to build awareness and encourage tennis fans to come along.'
ENDS
Note to editors: For further information about this press release, contact the David Lloyd Leisure press office on 01707 289833/4 or email press(at)davidlloyd(dot)co(dot)uk.
About David Lloyd Leisure Group
The David Lloyd Leisure Group operates 81 clubs in the UK and a further 10 clubs across Europe. It has over 440,000 members and employs 6,000 people. This includes an expert health and fitness team of over 1,800, while it contracts the services of more than 400 tennis professionals. Across all clubs, David Lloyd Leisure has over 150 swimming pools (of which half are indoor) and offers over 10,000 exercise classes per week. Every week 20,000 children learn to swim at David Lloyd Leisure and 14,000 learn to play tennis. Its racquets facilities are unparalleled with 700 tennis courts as well as 180 badminton courts and 140 squash courts. Additional facilities include health and beauty spas, club lounges with free internet access, crèches, nurseries and specialist sports shops.