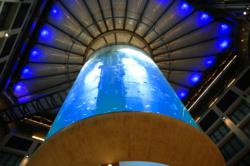 Reynolds Polymer appreciates the recognition, especially amongst the many other successful and distinguished companies that were eligible.
Grand Junction, Colorado (PRWEB) May 25, 2013
The centennial state's brightest entrepreneurs and business executives were on hand at the Colorado Manufacturing Awards in Denver last month where Reynolds Polymer Technology (RPT) was named as Commercial Manufacturer of the Year. The event was put on by ColoradoBiz Magazine, a publication that dignifies the many remarkable businesses that Colorado has produced from small startups to Fortune 100 corporations.
Scott Sullivan, President of RPT, was enthusiastic about the award and wasted no time in giving credit to his team. "Reynolds Polymer appreciates the recognition, especially amongst the many other successful and distinguished companies that were eligible. I fully attribute this achievement to over 30 total years of innovation, dedication, and hard work from each and every employee. The modern history of our company began with the move to Colorado and this is a certainly another high point in the story."
Reynolds Polymer Technology joined the Colorado business community in 1992, when it officially opened the doors to its Grand Junction headquarters. Unlike any other business in Colorado, or the United States, RPT specializes in manufacturing acrylic for the world's most spectacular water features. R-Cast® acrylic – the company's signature brand – has in fact been used to construct several aquariums that have been recognized by the Guinness Book of World Records. These include the viewing panel at Singapore's Resorts World Sentosa, which is currently the largest single acrylic panel in the world at 27 feet tall and 118 feet wide; and the AquaDom in Berlin, the largest cylindrical aquarium in the world which stands 82 feet high with a 36 foot diameter.
Reynolds Polymer's pronounced clientele – which includes resorts, casinos, hotels, aquariums, museums, and zoos – typically have one very similar goal in mind when they contact RPT; they want the biggest and the best, the type of architectural statement that has no known equal. This raising of the bar is what RPT has come to specialize in, and has led to the development of many remarkable projects. Notable enterprises have included waterslides on cruise ships, underwater dome rooms and restaurants, transparent tunnels through shark tanks, swimming pools hanging from skyscrapers, and a waterless Vquarium.
In addition to expanding its engineering capabilities over the years, RPT has also broadened its reach in the marketplace. To date, Reynolds Polymer's acrylic has been used in projects in 53 separate countries.
"Many Colorado residents may or may not know that we are truly a global company," said Matt Houlihan, Executive Vice President. "While we have done several jobs in Colorado and in the US, our largest projects have been in places such as China, Korea, Singapore and Brazil. But it is the Grand Junction, CO factory that is our home base and has allowed us to ship our acrylic aquarium panels throughout the world."
About Reynolds Polymer Technology, Inc.
During its 30 years in business, Reynolds Polymer Technology, Inc. has completed more than 1,600 projects in 53 countries, including the Aquadom in Berlin, Shark Reef in Las Vegas, and many other custom works. Reynolds is the manufacturer, fabricator, designer, and installer of R-Cast® acrylic sheets. The company is constantly raising the standard for what can be done with acrylic resins, and their products have been used extensively in the architectural, signage, aquarium, water-retaining, and scientific industries. Headquartered in Grand Junction, Colorado, Reynolds Polymer also has operations in Rayong, Thailand. Visit http://www.reynoldspolymer.com for more information. Proud member of the U.S. Green Building Council.
Contact : Ed Mueck, Marketing Manager | Reynolds Polymer Technology, Inc. | 970-241-4700
# # #