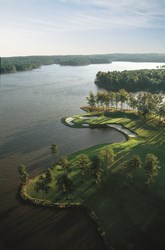 2nd Largest Lake in Georgia
Atlanta, Georgia (PRWEB) May 23, 2013
After receiving online rave reviews about the gorgeous scenery, endless outdoor activities and spectacular vacation and real estate opportunities, the Lake Oconee real estate area can add another national recognition to its list of achievements. On May 10, 2013, MSN published a list of the Top 10 Gorgeous Lakes in the US. The national recognition spurred online interest from commentators and has set a new tone for surrounding Lake Oconee areas such as the award winning gated Georgia lake community - Reynolds Plantation.
This will not be the first published recognition for Reynolds Plantation. This inclusive resort community is known for its six golf courses and stunning lakeshore properties have been attracting media attention since the first golf course, The Landing, opened in 1986. The gated Georgia lake community has earned an excellent reputation after Golf Magazine dubbed Reynolds Plantation "Best Golf of Any Community in America" and Conde Nast Traveler named it one of the "Top Golf Resorts in the US." With the media hype skyrocketing this community brand to the top, the Lake Oconee real estate market demand is rapidly increasing.
18,971 acres, 374 miles of shoreline
2nd largest lake in Georgia, fed from the Oconee River
95 feet deep, average depth 21 feet
20 miles long, less than 1 mile width
Fish caught stripped, white and hybrid bass, crappie, catfish
Watersports: jet skiing, water skiing, boating, swimming, and kayaking
Water temperature ranges from 45 to 80 degrees
Beyond the gated Georgia lake community outdoor activities and events calendar, there are more reasons why this is a prime location for real estate development and new residents. The proximity to shopping locations, the nearest hospital and upscale restaurants can be found within 5 miles of Reynolds Plantation. The extensive landscaping, immaculate sidewalks and streets and gated entrance leading in and around the community provide additional market value and privacy for residents in these areas. The homeowners association annual dues are inexpensive and golf and social initial fees allow members to receive a variety of perks and benefits.
The Lake Oconee real estate area has proven to be an ideal residence for retirees and families. The population of 16,000 provides a small-town feel, while the stated 413.50 crime index for Greensboro, Georgia represents it is a safe and private area to spend with friends and family. Whether on vacation or planning to stay for a lifetime, the Lake Oconee area is a beacon of entertainment, athletics and community partnership, and a perfect place to make your next home.
About Real Estate Scorecard:
Real Estate Scorecard writes unbiased real estate reviews providing in-depth information about popular gated communities in Florida, Georgia, North Carolina, South Carolina and Tennessee, all in an effort to help people discover where to retire in the Southeast.
Website address: http://realestatescorecard.com