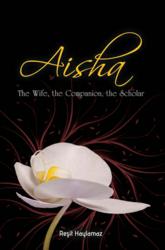 Clifton, New Jersey (PRWEB) May 24, 2013
Aisha is a pillar of devotion and loyalty who loved being dependent on and devoted to her husband. Having reported volumes of authentic narrations from the Prophet Muhammad and educated many renowned Islamic scholars in Islamic jurisprudence, Qur'anic exegesis, and the life of the Prophet, Aisha exemplifies the intelligence, academic aptitude and proficiency significant in women of contemporary society today.
Resit Haylamaz provides a comprehensive narrative of the life and scholarly contributions to Islam, ascribed to Aisha. Exploring the life of Aisha, this biography exemplifies the many different characteristics that shaped her from an early age. She undisputedly holds an imperative role as a wife, companion and scholar for future generations. Haylamaz reflects upon how Aisha reports personal encounters with the Prophet Muhammad and how his righteous conduct is synchronized with the teachings of the Quran.
Aisha had an inquisitive personality and astounding memorization abilities that enabled her to transmit the message and example of the Prophet in a manner in which she become a source of inspiration for men and women of all ages. Her role as the wife of the Prophet was subjected to slander and false accusations causing doubt, however her piety which was defended through a Quranic revelation in defense of her innocence.
Resit Haylamaz addresses the question of the age of Aisha at the time of her marriage to the Prophet Muhammad which instigated immense debate in western societies. Haylamaz answers with great depth and conviction to provide a sound answer through cross examination of historical record and systematic calculations.
About the Author: Resit Haylamaz is the Editor in Chief at Kaynak Publishing Group, Istanbul, Turkey. He has authored many other titles on the noble companions including, Ali ibn Abi Talib, Abu Bakr and Zayd ibn Haritha.
Title: Aisha: The Wife, The Companion, The Scholar
Author: Resit Haylamaz
ISBN: 978-1-59784-266-2
Published By: Tughra Books
Distributed By: NBN - National Book Network
Publication Date: May 16th 2012
Format: Paperback, 224 pages
Size: 6 x 9 inches
Price: $15.95
About the Publisher: Tughra Books is a US-based publisher of Islamic books, Islamic history and art, spirituality and traditions. Tughra Books is dedicated to produce high-quality and reliable publications that contribute to proliferation of peace and common understanding throughout the world. Please contact Awais Chaudry at 345 Clifton Avenue, Clifton, NJ 07011. Telephone: 973 777 2704 x219. Email: a.chaudry(at)tughrabooks(dot)com