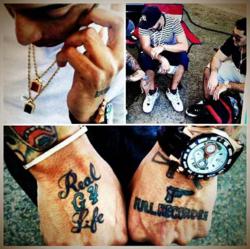 New York City, New York (PRWEB) May 24, 2013
The team at Avianne & Co. have established themselves as innovators in exquisite, handcrafted celebrity jewelry from their flagship store in the heart of New York City's famed Diamond District, and during a recent business trip, they found themselves in Puerto Rico, catering to artists and close family friends Arcángel, De La Ghetto, and Ñengo Flow.
After flying into the capital city of San Juan, the team was welcomed to the home of native New Yorker and world-renowned singer-songwriter, Arcángel. Following their warm welcome, the team gave the artist the royal treatment, presenting to him an extensive selection of ornately designed chains, diamond encrusted Jesus pendants, and custom-made watches.
Joining the group was Arcángel's longtime friend and cohort, rapper De La Ghetto. The New York-born San Juan native was presented the team's collection of celebrity diamond jewelry which included a large selection of iced-out diamond rings and custom diamond chains.
After the warm reception at Arcángel's estate, the Avianne & Co. team took a trip to Bayamon to the home of local hip hop star Ñengo Flow where, along with the artist's family, he was presented a series of Royal Pendants as well as the Avianne and Co. custom watch series.
Among the pieces purchased by the artists is the handcrafted 14k Yellow Gold Mens Custom Medusa Pendant, a lustrous piece of carved gold retailing for $8339.00. Arcángel also obtained a 14k Rose Gold Mens Diamond Rosary Chain featuring the Hamsa and Chai Pendants. The piece was sold at an undisclosed amount and is not to be reproduced at the artist's request.
Also among the items sold during the island tour is a selection of the company's signature 14K Yellow Gold Custom Diamond Angel Pendants, a glamorous diamond angel detailed with brilliant round cut diamonds retailing for $3899.00. While the majority of the purchases included custom chains and pendants, the Avianne and Co. Octavian Collection of Mens Watches took the forefront in the presentations, garnering much of the artist's awe and adoration.
The designers and celebrity jewelers at Avianne & Co. are constantly developing exciting new pieces to bring their loyal customer's ideas to life. While several companies offer similar services, it's the personalized approach, atmosphere, and overall experience that make the services provided by Avianne & Co. invaluable to artists and entertainers all over the world.