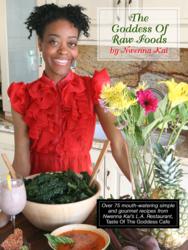 Hey Nwenna, I am LOVING journeying through your book, now that I have a Vitamix and dehydrator. The raw tomato basil soup is DELICIOUS!
~Robert Wesley Branch
Philadelphia, PA (PRWEB) May 24, 2013
World-renowned raw foods expert, Nwenna Kai, will be showcasing her debut book entitled, The Goddess of Raw Foods. This event will be held in Chicago on Thursday, May 30th from 6:30 pm to 8:30 pm at AfriWare Bookstore. During the book signing, Nwenna will be available to answer any questions concerning the raw foods diet and lifestyle. In addition, Ms. Kai will be discussing the following about raw foods:

the science behind the benefits of raw foods
how a raw foods diet can reverse and prevent disease
the benefits of cleansing and detoxing on a raw foods diet
the impact that a balanced raw foods diet can have on the body/mind/spirit
the nutritional impact that raw foods has on one's health
About Nwenna Kai
In addition to being a world renowned raw foods expert, Nwenna Kai is an award-winning wellness entrepreneur, food activist, and author. For over ten years, Nwenna Kai has contributed to the transformation of the health of thousands around the world. She was the lead creator of one of Los Angeles' pioneering raw vegan restaurants, The Taste of the Goddess Café. In addition, she is the creator of The 7 Days Raw Foods Cleanse and has appeared on multiple media networks including: E-Entertainment, The Travel Channel, The Philadelphia Tribune, Self Magazine, Heart & Soul Magazine, NBC's The Ten Show, & Purely Delicious Magazine.
Here is the location for the book signing
Thursday, May 30th - 6:30 pm - 8:30 pm
AfriWare Books, Gifts and Cultural Events
Eisenhower Tower
1701 S. 1st Ave., Suite 503
Maywood, IL 60153
708-524-8398 (store)
afriware(at)afriware(dot)net