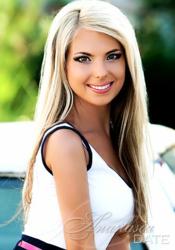 This month we have seen another rise in membership numbers. The team and I are certain this is because of the popularity of the AnastasiaDate mobile app amongst members
(PRWEB) May 30, 2013
Anastasia Date is the internationally popular online dating service providing opportunities for American men to meet and connect with beautiful, interesting and charming international women.
For the third consecutive month, Anastasia Date received record member registrations. With more than 4 million international members, they are now one of the leading online dating services in the world. The company puts this success down to its dedication for achieving high quality customer service.
The Anastasia Date management team also believe positive word of mouth received from members and fans via their social media platforms is helping to spread their reputation as a trusted and quality online dating site.
The Anastasia Date mobile app is also instrumental in the continued growth of international membership registrations. The mobile app is being downloaded by millions of existing and new members so they can enjoy their online dating experience wherever they are.
The mobile app is receiving high ratings and rave reviews from users who enjoy the flexibility and mobility it adds to their online dating. The Anastasia Date team says they are proud of their loyal membership who give them positive feedback and share their romance success stories on a regular basis.
Another reason for the continued international popularity is due to the surge in use of online dating as a way to find romance. While there are literally thousands of dating sites around the world, Anastasia Date offers a unique service no other dating site offers. They give professional, successful American men the opportunity to meet interesting, charming and stunningly beautiful women from around the world.
These beautiful international ladies add a special dynamic sparkle and sense of fun to their relationships, something American men struggle to find from women in their own localities. Anastasia Date offers a service which connects these lovely ladies with professional men who are looking for the best in life and who would like a beautiful woman to share fun times with.
As a result of their international reputation and popularity, Anastasia Date is fast becoming a leader and innovator in online dating technology and services. An example of this is their popular mobile app.
Chief Communications Officer, Lawrence Cervantes said, "This month we have seen another rise in membership numbers. The team and I are certain this is because of the popularity of the AnastasiaDate mobile app amongst members. It is also attracting new memberships every day. Since we launched the app, downloads have steadily increased and member feedback is always positive."
AnastasiaDate members' feedback praises the app for its simplicity of use. They are reporting that the search functionality is quick and easy to use so they can connect with beautiful women at any time, whenever they are on the move.
With more than 4 million clients, there is no doubt AnastasiaDate is an innovator and a leader in the field of international online dating services.
About Anastasia Date
AnastasiaDate is a premium, international dating site helping singles to find romantic companions with beautiful women from all over the globe. The company now enjoys over 4 million international members. Their popular website attracts over 10 million visits per month. AnastasiaDate provides their members with a safe, secure and pleasant online environment for members to meet their romantic partners. The company is known for the high levels of customer service to their international clientele and their state of the art website and social media sites which include video chat and a popular mobile app for Google Play store.