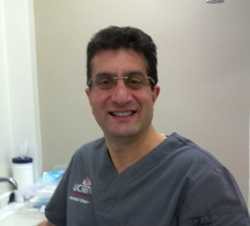 The government needs to take a strong lead to get fluoridation back on the agenda. It also needs to increase public awareness and education
(PRWEB) May 24, 2013
Tariq Drabu, leading Manchester GDC registered dentist and the owner of Langley Dental Practice in Middleton, Manchester has today issued a strong call supporting a call by the British Dental Association (BDA) for the recruitment of dental public health consultants in England. The BDA press release dated 7.5.13 can be seen here and here.
Commenting on the call from the BDA Tariq Drabu said "consultants in dental public health are vital in strategic planning of services and advising commissioners of local needs including education of the public and the fluoridation of public water supplies as part of a proactive dental public health agenda. We must have assurances that the funding for the posts remains available and recruitment will occur. We may lose prevention and planning in early years which is so important for dental public health."
His call also follows the news that in Wales appalling new figures show that more than a third of Welsh people brush their teeth only once a day - or less. As part of a recent survey commissioned by a dental payment plan provider, figures revealed that 31% of people surveyed admitted to falling below the recommended twice-a-day routine, with 4% of those admitting to not brushing on a daily basis at all. The story dated 8.4.2013 can be seen here http://www.walesonline.co.uk/news/health/third-wales-brush-teeth-once-2524854. These worrying figures came to light last week in spite of supposed widespread knowledge about the benefit of oral hygiene and wider awareness of the benefits of toothbrushing.
Commenting on the findings Tariq Drabu said "I am disappointed to count to the results of this survey. With so much more emphasis in the public domain about dental health and toothbrushing I would have thought that these figures would not be as bad as they are. The two major dental diseases which are tooth decay and gum disease are both preventable. We know that tooth decay is a preventable disease and it is a well known fact that getting fluoride in to contact with teeth will have a positive effect on dental health. The best ways of doing this is by
Fluoridation of the public water supply. In terms of toothbrushing and oral health there needs to be an increase in public awareness through our local health services as part of a wider educational campaign. This needs to take place from early years onwards so that good habits are inside instilled into children from an early age.
Tariq Drabu sounded a note of warning about the current major NHS reforms that were implemented last month may well mean that matters such as dental public health will be overlooked. Tariq Drabu said "with the dissolution of Primary Care Trusts responsible for local health provision these current major NHS reorganisations may lead to moves towards public water fluoridation and wide dental public health being missed and in some cases abandoned, leading to a deterioration in the dental health of the population, especially children."
Tariq Drabu who has owned Langley Dental Practice since 1998, was outspoken in his support for water fluoridation and increasing education as effective public health measures. He said, "We have been practising here in North Manchester, which is an area of high social deprivation and poor dental health for over 15 years. In terms of levels of tooth decay, our locality figures are in the bottom 20 out of all 300 health trusts in the whole country. Figures from the Department of Health show that areas like ours have children's tooth decay rates that are eight times worse than the best areas in the country. Therefore we need prompt and proactive public health measures such as water fluoridation in order to improve the dental health of the population, especially children. A comparable area like South Birmingham, which is in the bottom third for social deprivation but which has fluoride in the water, is in the top third of areas with the lowest levels of tooth decay. So, when we compare like for like we can see that fluoride does work."
Tariq Drabu went on to say "back in 2010 after the election the Coalition government in its flagship "Programme for Government" document said not only that it would introduce a new NHS dentistry contract but more importantly it talked about an additional focus on the oral health of schoolchildren. The new contract is making ground but the dental public health of children is falling by the wayside and the confusion surrounding fluoridation will only make matters worse."
Tariq Drabu who was chairman of Bury and Rochdale Local Dental Committee between 2003 and 2006 urged on the government to take the lead and press ahead with a workable public health agenda that put water fluoridation and education at the top of dental public health especially for children.
Tariq Drabu concluded by saying "The government needs to take a strong lead to get fluoridation back on the agenda. It also needs to increase public awareness and education. The government talks a lot about reducing health inequalities. It needs to show that it is serious. It can show that it is serious by moving forward with a programme of education and water fluoridation. I hope that the government listens to the need to increase public awareness and education"