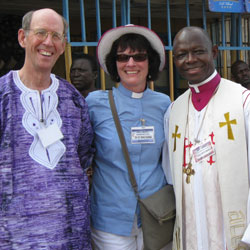 In a nation still recovering from civil war, this message of hope and new life in Jesus Christ is like a breath of fresh air.
Dayton, Ohio (PRWEB) May 29, 2013
At the invitation of Bishop John Yambasu, United Theological Seminary(United) President Dr. Wendy Deichmann attended the 133rd session of the Sierra Leone United Methodist Annual Conference in March in Kenema, Sierra Leone. United is expanding its international connections, so the invitation came at an opportune time.
"I took advantage of the opportunity to visit this beautiful, West African country because United has been in conversation with United Methodists in Sierra Leone about a partnership in theological education for well over a year," President Deichmann said.
President Deichmann was accompanied by United professor Dr. Peter Bellini, Ms. Maria Bellini and the Rev. Stephen Crowell in the weeklong visit to Freetown and Kenema.
Approximately 500 persons were in attendance at the Annual Conference, and this was the first time the Conference was held in the inland provinces. Historically, it has been held in Freetown on the coast.
"The church in Sierra Leone is growing by leaps and bounds," Deichmann said. "Members, pastors and evangelists alike are passionate and sacrificial about their faith and spreading the Gospel. I was most impressed with the kind generosity of our hosts and the beauty of their faith."
The theme of the Conference was "Keeping the Dream Alive."
"In a nation still recovering from civil war, this message of hope and new life in Jesus Christ is like a breath of fresh air," Deichmann said. "The war brought much death and devastation to these people and they are determined to do all they can to recover with the help of their God and their friends."
United has a historic relationship with The United Methodist Church (UMC) in Sierra Leone. Both the seminary and the Sierra Leonean UMC were founded in the 19th century by the United Brethren in Christ Church (UBC). The UBC eventually merged with other denominations to form The UMC. Many of the missionaries to Sierra Leone were from Dayton, Ohio, and were educated for ministry at United. Four pastors from Sierra Leone will be enrolled in United's hybrid/online master of divinity degree program this fall.
"United has a long history of relationship with Sierra Leone, and we are pleased and proud to continue it. There is much that our American students can learn from African pastors and the Africans need resources for theological education as well," Deichmann said. "I'm looking forward to continuing a historic, mutually beneficial partnership that represents the global Church of Jesus Christ at its best."
United Theological Seminary, now in its 142nd year, is one of the fastest growing theological schools in the United States. It was founded in 1871 by Milton Wright, a Bishop in The United Brethren Church and father of Wilbur, Orville and Katherine Wright. United offers accredited, innovative graduate and non-degree education programs for both clergy and laity. See http://www.united.edu for more information.