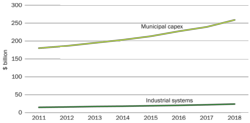 We estimate that industrial and municipal water users withdrew around 1,182km3 of water from the environment in 2011. By 2030, we estimate that total demand will rise to 1,562km3, but not all of this water can come from cheap and convenient resources.
(PRWEB) May 24, 2013
The International Monetary Fund believes that the global economy will grow by 3.3% in 2013, compared to 3.2% in 2012, according to BBC news. Meanwhile, according to the newly published Global Water Market 2014 report, capital expenditure on water infrastructure will grow by 4.9% in 2013, up from 3.7% in 2012. Global Water Intelligence explains why they believe that water will outperform the economy so convincingly both this year, and over the years included in the report's forecast period out to 2018.
According to Global Water Intelligence publisher, Christopher Gasson, "the water industry has a history of disappointing investors, but we believe there are a number of factors that make it different this time."
The report carries detailed forecasts of the outlook for water in 100 different countries, looking at different aspects of expenditure, including resource development, water and wastewater networks, treatment, and industrial water. Christopher Gasson explains that "different markets are moving in very different ways". The report forecasts that China's expenditure on water resource development (excluding desalination) will fall by 75% over the years to 2018, as the first phase of the South-North Water Transfer reaches completion, but predicts that its expenditure on wastewater treatment plants will rise by 81% as it pursues plans to improve wastewater treatment in smaller towns and cities. Stepping back and looking at the market as a whole, however, Global Water Intelligence pinpoints five distinct themes which are driving expenditure in the water market at a rate quicker than the economy as a whole.
They estimate that industrial and municipal water users withdrew around 1,182km3 of water from the environment in 2011. By 2030, they estimate that total demand will rise to 1,562km3, but not all of this water can come from cheap and convenient resources. So, the share coming from long-distance transfer, desalination and water reuse will rise from 1.8% in 2011 to 5.7% in 2030.
Although low-cost water resources will remain the overwhelmingly dominant source of supply, GWI believes that the high cost of developing non-traditional resources will cause expenditure on developing new water resources to grow by 8.2% over the period 2013-2018.
Christopher Gasson estimates that around 92% of capital expenditure on water infrastructure comes from the public purse. He explains that "public sector spending tends to peak late in the economic cycle, because that is when public finances are strongest. They may continue a little into an economic downturn in the form of stimulus spending, but during the early stages of recovery, public finances are at their weakest, and that is where we are today. Levels of capital expenditure on water are well below what they were at the peak".
The report predicts that there will be a significant increase in wastewater spending over the next five years in a return to previous trends. The US because they are nearing recovery, Southern and Eastern Europe because many countries still have outstanding commitments to EU directives, and the BRIC countries (Brazil, Russia, India and China) will experience strong growth as a result of this late cycle business –infrastructure spending will accelerate as GDP growth is starting to slow.
Urbanisation will also drive wastewater spending - wastewater collection, treatment and sludge management are the forgotten necessities of urban life. Rapidly industrialising countries cannot avoid spending money on wastewater collection and treatment for very long.
GWI expects capital expenditure on wastewater infrastructure to outstrip capital spending on drinking water systems over the next five years. In the developed world, much of the spending will focus on combined sewer overflow correction, and sludge management. In the developing world, sewer networks and treatment plants will be the most significant expenditure items. Overall, capital expenditure on wastewater infrastructure is growing by 5.0% per year, but certain niches such as anaerobic digestion (9.7%) and aeration (6.2%) are growing more rapidly.
On the industrial side, the report predicts that water spending by industrial users will grow more quickly than the municipal water sector. This reflects a number of additional pressures affecting industrial water users. The natural resources industries are increasingly pursuing more marginal resources such as low-grade ores, shale gas, oil sands, coal bed methane, and tertiary oil recovery.
Typically, these involve significant wastewater treatment challenges, although many of these resources lie in areas of the world where meeting process water requirements requires significant expenditure as well. In other sectors, brand management and corporate social responsibility are driving greater investment in water-efficient technologies, while tighter regulations on discharges are also a significant catalyst for expenditure.
The moment to tear up these forecasts is when growth in the Chinese economy slows below 6%, Brent Crude falls below $80, or US growth grinds to a halt. The report anticipates that China will become the largest single water market by 2016, and through the commodities market, it is also a major driver of the industrial sector. The oil price is significant for the GCC municipal water market, as well as industrial water spending in oil producing countries. The US recovery is important for obvious reasons.
The report was released on 10th April 2013 and costs £2,500 / $4,375. To order the report or for more information, visit http://www.globalwaterintel.com/GWM2014 or email Chantal Marchesi at cmarchesi(at)globalwaterintel(dot)com.