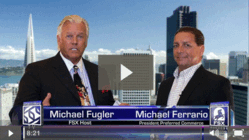 San Francisco, CA (PRWEB) May 24, 2013
FSX Investment Conference held their recent event in San Francisco, California. The companies that presented at this Investment Conference had the opportunity to be interviewed by InterlinkedTV.
Preferred Commerce President, Michael Ferrario, granted an exclusive interview on their focused featured product, Growums. Mr. Ferrario stated during the interview that Growums are fun gardening kits for children. Teaching children how to grow vegetables through little feature type of gardens such as stir fried gardens and pizza gardens. Kids can register at http://www.growums.com and the Growums registered cartoon characters come to life and show children through little cartoon videos how to grow their herbs and vegetable from seeds to transplanting them, cutting them and everything they need to know.
While building an online educational platform for Lowe's Garden Center Mr. Ferrario thought to himself, why only build a platform to teach employees how to sell more, why don't we teach people how to be better gardeners. Then, considering that childhood obesity up to 17%, with over 11 million children between 5 and 10 years old that are obese, Preferred Commerce decided to teach children how to grow their own food and eat healthier.
The complete interview is available at Preferred Commerce's public profile on Interlinked's IDeal Room .
About Growums
Growums is a fun and interactive educational experience that teaches children and parents how to grow vegetables while reinforcing learning about the importance of proper nutrition and a healthy lifestyle. More information at http://bit.ly/14VjaIu
About Interlinked
Interlinked is designed to be the most efficient and powerful system available in assisting its members in finding one another, building relationships and ultimately do business together. Interlinked is a private network and it is not open to the public. You must be invited or apply to be part of the community. Our proven process utilizes four primary systems: one, through our custom automated campaigns (IRocket), second through media InterlinkedTV, thirdly our Ideal room, fourth, through our relationships with strong partners and events. For more information go to http://www.interlinked.com.
Safe Harbor Statement
This press release may contain information that constitutes forward-looking statements made pursuant to the safe harbor provisions of the Private Securities Litigation Reform Act of 1995. All statements, trends, analysis, and other information contained in this press release, including words such as "anticipate," "believe," "plan," "estimate," "expect," "intend," and other similar expressions of opinion, constitute forward-looking statements. Any such forward-looking statements involve risks and uncertainties that could cause actual results to differ materially from any future results described within the forward-looking statements. Risk factors that could contribute to such differences include those matters more fully disclosed in the Company's reports filed with the Securities and Exchange Commission. The forward-looking information provided herein represents the Company's estimates as of the date of the press release, and subsequent events and developments may cause the Company's estimates to change. The Company specifically disclaims any obligation to update the forward-looking information in the future. Therefore, this forward-looking information should not be relied upon as representing the Company's estimates of its future financial performance as of any date subsequent to the date of this press release.