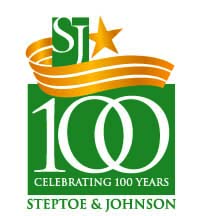 Bridgeport, W.Va. (PRWEB) May 24, 2013
Steptoe & Johnson PLLC ranked first in all five practice areas in West Virginia by Chambers USA America's Leading Lawyers for Business for the sixth consecutive year. In addition, 22 Steptoe & Johnson attorneys have been named "Leaders in Their Field," up from 20 in 2012.
"We are pleased that the firm is top-ranked again by Chambers USA," said firm CEO Susan Brewer. "The designation of 22 attorneys as 'Leaders in Their Field' reflects our firm's dedication to client relationships and professional excellence."
Steptoe & Johnson's top rankings in all WV practice areas:
Corporate/Commercial
Labor & Employment
Litigation: General Commercial
Natural Resources
Real Estate
Attorneys named "Leaders in Their Field" and their practice areas:
Corporate/Commercial
Patrick D. Deem
L. Frederick Williams, Jr.
Corporate/Commercial: Banking & Finance
Evans L. King, Jr.
John C. Stump
Corporate/Commercial: Healthcare
Walter L. Williams
Corporate/Commercial: Tax
L. Frederick Williams, Jr.
Labor & Employment
Rodney L. Bean
Bryan R. Cokeley
David E. Dick
John R. Merinar, Jr.
C. David Morrison
Christopher L. Slaughter
Robert M. Steptoe, Jr.
Litigation: General Commercial
Jonathan R. Ellis
William E. Galeota
Jeffrey K. Phillips
Ancil G. Ramey
Joanna I. Tabit
Litigation: Healthcare
Susan S. Brewer
Natural Resources
Patrick D. Deem
Sharon O. Flanery
James A. Russell
Real Estate
Patrick D. Deem
Louis E. Enderle, Jr.
Randall C. Light
Chambers USA rankings are based upon the recommendations of clients and lawyers throughout the United States. Law firms and individual lawyers are ranked on a scale of 1-6, with an additional ranking awarded to those considered "up and coming," and for lawyers with exceptional recommendations in their field.
About Steptoe & Johnson
Steptoe & Johnson PLLC is a U.S. energy firm with core strengths in energy, labor & employment, litigation and transactional law. In 2013, Steptoe & Johnson celebrates 100 years of helping clients reach their goals. Visit http://www.steptoe-johnson.com/
For more information, contact Betsy Spellman, Chief Marketing Officer, at (304) 933-8000 or by email:betsy.spellman(at)steptoe-johnson(dot)com