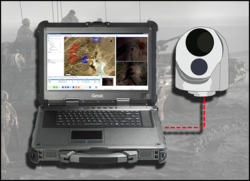 "(AIMS-ISR®) enables operators to work more efficiently and effectively, in a wider range of operating environments than ever before."
Halifax, NS (PRWEB) May 27, 2013
CarteNav Solutions Inc. is set to showcase the advanced capabilities introduced to its innovative AIMS-ISR® family of software solutions at CANSEC 2013.
The Halifax-based company will demonstrate the latest additions to its cutting-edge intelligence, surveillance, and reconnaissance (ISR) software solutions, which include video analytic algorithms, graphical vector overlays, and Electro-Optic/Infra-Red (EO/IR) camera controls, all directly available from within the live video stream.
"We believe the operator shouldn't have to look away from the primary display to gain access to the mission-critical information required to fully prosecute an object of interest," says Scott Richardson, CarteNav's VP Product Development. "The whole basis of AIMS-ISR® is to make the task of intelligence collection easier and more intuitive for the operator," he says.
CarteNav's achievements in recent months should not be overlooked. Overlaying tactical mission data, and rendering moving target and change detect indications in the video pane is certainly a significant step towards true augmented reality. But the incorporation of "soft controls" for the world's leading EO/IR sensor systems, directly within the live video feed, takes the concept of electronic surveillance operations to a whole new level.
"We have worked closely with operators and system integrators for many years now," Mr Richardson continues. "The solution presented at CANSEC 2013 will be the culmination of thousands of hours of operational testing in real-world scenarios, often in direct consultation with the users themselves."
CarteNav has exhibited for a number of years at CANSEC, and consistently demonstrates to the Canadian Defence and Aerospace industry that its innovative ISR products and R&D capabilities remain at the forefront of the sector.
"These latest developments will certainly enable operators to work more efficiently, and effectively, in a wider range of operating environments than ever before," Mr Richardson predicts. "When you look at the new developments, and consider that the entire system may be networked, and will simultaneously support multiple sensors, it is easy to see that AIMS-ISR® is a compelling force multiplier for any ISR application."
By participating at CANSEC 2013, CarteNav Solutions Inc. reinforces its long-term commitment to providing both the Canadian defence industry and the Government of Canada with cost effective and powerful ISR capability in the land, sea, or air environments.
*****
ABOUT CANSEC 2013:
CANSEC is Canada's foremost defence technology show held annually in Ottawa, ON. A two-day event, CANSEC features 120,000 square feet of indoor exhibits by Canada's leading-edge defence and security companies, as well as an outdoor static display.
This showcase targets a wide audience of customers that includes Government agencies and departments with an interest in the defence sector.
*****
ABOUT CARTENAV SOLUTIONS INC.:
CarteNav is an international leader in situational awareness solutions for the maritime, land, and air environments. Founded in 2002, CarteNav offers operationally proven data integration and display technologies that dramatically improve performance of both sensor operators and tactical decision makers. The company has established a reputation for providing sought-after and high-value software solutions that meet short timeframes at attractive price points.
CarteNav's global client base includes agencies from the national defence, homeland security, and public safety sectors. With over a decade of experience in the industry, the AIMS family of ISR software solutions are deployed on a variety of surveillance platforms around the world and are operated by more than fifteen countries.
The company's success is founded on its people and its dedication to continued innovation, guided by well-thought-out and focused research and development. An ISO 9001:2008 registered company, CarteNav's technical expertise in sensor management, graphical user interfaces, map technology, and systems integration is underscored by an unwavering commitment to quality and customer service.