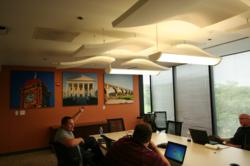 when
systems integrators have a choice between something that works and something that works and looks great it's a no brainer
Richmond, VA (PRWEB) May 28, 2013
For the past twenty years, Acoustical Solutions has been a staple exhibitor at InfoComm, the largest pro-AV show in the world, recognized as a Tradeshow News Network Top 250 Trade Show. With over 925 exhibitors and 35,000 attendees from over 90 countries, InfoComm is an amazing opportunity for systems integrators and others in the AV industry to learn about the latest audio and video technology.
Acoustical treatment is a vital part of any project where sound matters – in order to reap the full benefit of even the highest quality audio equipment, rooms need to be optimized for ideal reverberation time and intelligibility.
This year, Acoustical Solutions introduced more new products than at any time in their more than 20 year history.
In addition to top acoustical performance, new product features include panels and even whole acoustical wall systems that are printed with high resolution images, new organic and three-dimensional shapes, and finishes in a variety of materials and fabrics.
"The acoustics industry is beginning to realize that treatment doesn't need to be cookie-cutter, visually," says Acoustical Solutions Trade Show Manager Don Strahle. "We are kind of ahead of the curve in that we've been in the industry for decades and know when systems integrators have a choice between something that works and something that works and looks great it's a no brainer."
Acoustical Solutions will be giving away a free AcoustiArt Printed Sound Absorbing Panel at Booth 2401.
About Acoustical Solutions, Inc.:
Since 1989 Acoustical Solutions, Inc. has provided the detailed expertise needed to serve the noise control community. Acoustical Solutions, Inc. works with a wide variety of customers from commercial and residential development to worship facilities, recording studios and home theater designers. Acoustical Solutions, Inc. offers the industry's most comprehensive selection of noise control and soundproofing products, including a full line of indoor and outdoor industrial, commercial, environmental, and architectural noise control products. For more information please visit AcousticalSolutions.com, call 1-800-782-5742, or see our media kit.
###