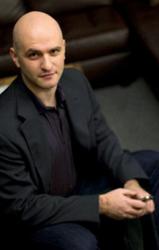 Despite being a world-renowned dating and relationship expert, who's even been featured on the Rachel Ray show, Fiore admits he never say his now-fiancé coming. He insists she used a simple—and possibly even dangerous—technique on him that transformed him
Las Vegas, NV (PRWEB) May 24, 2013
Michael Fiore claims men want him silenced, but he won't stop talking. The self-proclaimed "friend to thousands of women" claims he's revealing the secret to making a man commit to a woman in an information product titled, "Capture His Heart and Make Him Love You Forever."
It doesn't matter if a guy was previously the world's biggest player, according to Fiore, because his course claims to exploit a psychological loophole that "puts it out of his control." How does Fiore know this course works so well? It worked on him.
Fiore admits to a questionable past with women, one where he felt "emotionally dead inside" leading him to date multiple women and swear off commitment. "Then," Fiore explains, his voice trembling with excitement, "I met her."
Despite being a world-renowned dating and relationship expert, who's even been featured on the Rachel Ray show, Fiore admits he never saw his now-fiancé coming. He insists she used a simple—and possibly even dangerous—technique on him that transformed him from a playboy into a committed man.
Laughing, Fiore claims he didn't stand a chance. His fiancé had what he describes as "a secret weapon in the game of love." That "secret weapon" is Claire Casey. Described as a soccer mom who enjoys "geeking out" on Star Trek, Casey's information product, Capture His Heart and Make Him Love You Forever is helping women all over the world snare men like Fiore.
Casey's system is a 3-step process. First, it alleviates women of feelings of neediness. As Fiore explains, men want a "woman who knows who she is." Next, a woman must plant a "future seed." With a smile, Fiore reveals the final step: "Third, you have to make it his idea."
To hear Fiore explain this 3-step process in a free-to-watch online presentation, click here. (Warning: presentation might be taken down by the time of this publication of this article, or shortly thereafter.)
Fiore admits he can't tell a woman what to say and how to act, but maintains that Claire Casey can. According to him, her 3-step process is what got him down on one knee to happily propose to spend the rest of his life with a woman who followed the Capture His Heart and Make Him Love You Forever system.
Whether it's a single woman looking to get into a committed relationship or a woman already in a relationship, Fiore claims Claire Casey can make a man commit and fall in love. To learn more about Michael Fiore, Claire Casey, and Capture His Heart and Make Him Love You Forever click here.