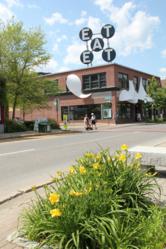 Through the first three years of the alliance, over 150 teachers, primarily from Maine, have attended.
Rockland, Maine (PRWEB) May 24, 2013
From Monday, July 22 through Friday, July 26— and for the fourth consecutive year— the Farnsworth Art Museum in Rockland, Maine, will host New York City's Lincoln Center Institute's International Educator Workshop. Launched in 2010, the Farnsworth's strategic alliance with Lincoln Center Institute brings a world-class professional development workshop to Rockland each summer. The Farnsworth is pleased to announce that it is offering thirty scholarships to any full-time Maine teacher interested in attending the workshop. Through the first three years of the alliance, over 150 teachers, primarily from Maine, have attended.
Lincoln Center Institute's International Educator Workshop, intended for educators, artists, school or arts administrators, curriculum developers, and college and university professors, focuses on imaginative teaching and learning through the experiential study of theater and visual arts for K-12 teachers. This one-week workshop is an immersion experience using live works of art and guided inquiry that includes art making, questioning, reflection and contextual research to support imaginative teaching and learning across all subject areas. It includes support for teachers in building their own aesthetic practice related to their subject/grade or area of expertise.
The workshop contains:

30 contact hours of artistic and educational discovery across 5 days
Individual, small, and whole group discussions; experiential activities; research; and reflection
Dedicated time to explore and develop an understanding of the pedagogy of imaginative teaching and learning and gain strategies for bringing it back for implementation in one's own practice
This year's workshop will explore the visual arts through the Farnsworth's American Treasures exhibitions, and the performing arts through Everyman Repertory Theatre's performance of Three Chekhov Vaudevilles. Three Chekhov Vaudevilles is a comic collection of short plays written by Russian writer Anton Chekhov, adapted and translated by Michael Frayn. These lively, laugh-out-loud shorts celebrate the foibles and eccentricities of human nature. Written in the late 1800's as farces, or "jokes," The Bear, The Proposal and The Evils of Tobacco feature a wide variety of recognizable characters who find themselves in the throes of absurd misunderstandings and intentions gone awry. This performance is suitable for all ages.
Funding for the Lincoln Center Institute Introductory Workshop is made possible in part through the support of the Arthur K. Watson Charitable Trust, Cascade Foundation, and Jane's Trust.
Lincoln Center Institute for the Arts in Education, established in 1975 and located in New York City, is the educational cornerstone of Lincoln Center for the Performing Arts, Inc. It is the leading organization in developing skills of observation, inquiry, imagination and creativity through guided encounters with the visual and performing arts. For nearly thirty-five years, Lincoln Center Institute has shared its unique method of education with more than twenty million students, teachers, college professors and arts administrators representing public schools, arts organizations and professional teaching colleges in New York City, across the nation and around the world.
For more information please visit http://www.farnsworthmuseum.org/education or call 207-596-6457 ext 103.