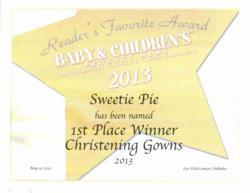 It is an honor just to be mentioned among the top Christening Gown companies, let alone win the award for the best company for the entire category
(PRWEB) May 28, 2013
Sweetie Pie Collection is glad to announce that we have been named the 1st Place Winner for Christening Gowns in 2013 by Baby & Children's Product News: The Complete Juvenile Trade Resource. This was the Reader's Favorite Award.
It is an honor just to be mentioned among the top Christening Gown companies, let alone win the award for the best company for the entire category! We want to thank all of the retailers who represent our line, the individual customers who purchase our gowns for their special day, and the voters who made it possible for us to win the 1st Place Award. We promise to continue to offer a great quality product and the best possible customer service when it comes to christening gowns, dresses, and all products that we offer here at Sweetie Pie Collection.
At Sweetie Pie Collection, we realize how important your baby is to you. This is why all of our newborn, infant, and baby dresses and gowns are made with the highest quality fabrics, embroideries, lace trims, and bead work. Our variety of styles, designs, and fabrics make our dresses perfect for any christening or baptism, and can fit within any budget.
About Sweetie Pie: Sweetie Pie Collection creates an extensive line of flower girl dresses, communion dresses, christening dresses, pageant dresses, first birthday dresses, couture communion dresses, baby dresses and special occasion dresses for girls of all sizes. From infant to teens, Sweetie Pie Collection provides special occasion formal wear that is hand made with detailed precision and craftsmanship. Sweetie Pie Collection's Children Formal Wear Boutique collections are designed by the leading fashion designers with some of the most innovative and trendsetting styles each and every season. Sweetie Pie Collection's dress styles are unparalleled in elegance, sophistication and exquisiteness.
The Sweetie Pie Collection can be found in the finest and most exclusive bridal shops, children's stores and specialty boutiques in all 50 states, and over 20 countries worldwide. Make sure to visit our website and store locator to ensure that you are purchasing your dress from an authorized Sweetie Pie Collection retailer. You can visit our Facebook page to enter our Photo Contest and our Dress Sweepstakes to win a free dress!