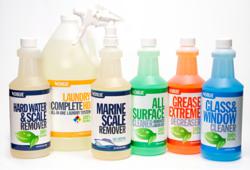 It's ironic that so many of today's cleaning supplies used in the marine environment are actually poisonous or corrosive and harmful to aquatic life, water quality and human health
Fort Lauderdale, FL (PRWEB) May 28, 2013
Today, Agaia, Inc., creators of Evolve®, announces that it has signed a distribution agreement with First Choice Marine Supply to make Evolve products available to ships and maritime facilities throughout the Americas.
One of the most significant advances in cleaning in 60 years, Evolve is the first all natural, nontoxic cleaning technology to measurably outperform chemical-based cleaners, degreasers, descalers, laundry detergents and solvents. Derived from plants, vegetables, and other all-natural sources, Evolve's patented technology breaks the molecular bond in hydrocarbons (oil and grease), calcium carbonates (scale) and other contaminants, allowing the marine industry for the first time to fully replace the dangerous chemical cleaners from their ships and shipyards, while reducing cleaning and maintenance costs with a more powerful and safer cleaning solution.
First Choice Marine Supply, which serves the global marine supply, commercial fishing and industrial maritime markets, will distribute several Agaia International products to service cleaning needs ranging from the build-up of scale on hulls and machinery, engine room degreasing and laundry operations. Evolve Marine Scale Remover, Evolve Grease Extreme and Evolve Laundry Complete, as well as other industrial strength cleaners from the Agaia International product line will be available through the new distribution agreement.
"It's ironic that so many of today's cleaning supplies used in the marine environment are actually poisonous or corrosive and harmful to aquatic life, water quality and human health," says Agaia Chairman and CEO Benjamin Shell. "As a distribution partner for Evolve, First Choice Marine Supply is now stepping up and offering improved cleaning solutions that will help the global maritime community reduce labor, cut cleaning costs, while significantly reducing the harsh chemicals in the workplace and the amount of toxins and chemicals that enter our oceans."
As a distribution partner for Agaia, Inc.'s Evolve product line, First Choice Marine Supply can now offer its customers a wide range of highly effective, eco-friendly cleaning products. "These are the right products at the right time for a global maritime marketplace that is looking for cleaner, more effective cleaning products," says David Greenwood of First Choice Marine Supply. "Now, for the first time, our customers can access a 100% safe, natural and non-toxic line of organic cleaning products that clean better than existing products, while protecting their employees against harmful exposure to hazardous chemicals, all while saving them time and money. No HAZMAT or cross contamination issues and just look at the MSDS numbers, all zeros!"
About Agaia, Inc.
Florida-based Agaia, Inc. has launched a new revolution in "Green" that is changing how the planet cleans. Through the company's patent-pending, all natural technology, Evolve®, Agaia has unleashed the intrinsic power of nature to clean at a level previously achieved only by the use of toxic, petroleum-based chemicals, detergents, solvents, and caustic acids. Evolve represents the next generation in cleaning technologies capable of delivering vastly superior results over chemical cleaners while offering an unprecedented new level of safety. Evolve is truly people planet and animal safe.
Agaia (pronounced A•guy•a) presently distributes its products to North, Central, and South America, Pan Asia, and beginning in Europe in mid-2013. The company has partnered with and licensed Evolve® for private branding to a growing list of Fortune 100 and 500 companies and is experiencing explosive growth in all market segments.
For more information, please visit: http://www.agaiainc.com
About First Choice Marine Supply
First Choice Marine Supply is a high quality, service oriented commercial maritime supply operation serving three distinct markets: global ship chandlery, the commercial fishing industry, and the marine industrial market. The company stocks a tremendous amount of products available for same day shipping including full deck and engine supplies, synthetic mooring ropes, steel wire rope and a full range of shipyard and industrial maritime products, and has vast experience in the commercial fishing industry with the acquisition of Standard Marine Supply, a 100 year old company serving the international commercial fishing industry. First Choice Marine Supply has offices in Tampa, Savannah and Charleston. Geographic markets served include the United States, the Bahamas, the Caribbean, Central America and South America. More information at: http://www.FirstChoiceMarineSupply.com