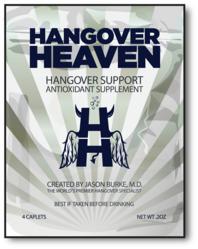 My ultimate goal is to use science to prevent hangovers from ever happening. The hangover support supplements are a big step in the right direction.
Las Vegas, NV (PRWEB) May 24, 2013
Dr. Burke's Hangover Heaven launches its hangover support supplements in a bold pouch that dons the signature logo, clouds, and sunbursts. The supplements were specially formulated by Dr. Burke to ward off or significantly reduce the symptoms of a hangover. Officially launching on Friday, the hangover support supplements are already slated for shipment to retailers in the US and abroad.
Based in Las Vegas, NV, Hangover Heaven is the only medical clinic in the world dedicated to the study, prevention, and treatment of hangovers. Hangover Heaven is widely known for its signature hangover cure that was created by veteran anesthesiologist Dr. Jason Burke. To date, the doctor has cured thousands of hangovers in the Hangover Heaven brick and mortar clinic, the fully equipped 45 foot mobile medical facility, and through the popular in-room service component. With the launch of the hangover support supplements, Dr. Burke adds another layer to his medical practice: product sales.
"Even though I was excited to create and launch the hangover cure, I've always been more interested in preventing hangovers. I've cured thousands of hangovers, but that is a lot of work. My ultimate goal is to use science to prevent hangovers from ever happening. The hangover support supplements are a big step in the right direction," stated Dr. Burke.
As with Dr. Burke's cure, the hangover support supplements required a great deal of research and time in the lab. Coupled with his extensive knowledge of Western and Eastern medicine, Dr. Burke formulated a proprietary blend that positions the supplements as a powerful hangover prevention aid for light to moderate drinking.
According to Dr. Burke, "Hangover prevention requires more than mixing vitamins together. It is about arriving at the correct dosage, selecting the right bonding agent so the supplements dissolve properly in the system, and formulating a proprietary blend that serves as the heart and soul of the treatment. I'm very pleased with the end result."
Although the hangover support supplements are slated for mass market distribution on Friday, Dr. Burke started offering a version of his supplements to the public in March to see how they would be received. The response was astounding. Orders came in and he immediately started receiving inquiries regarding wholesale orders.
"I started with a soft launch to gauge the public's response. I didn't want the supplements to be perceived as another snake skin oil remedy to prevent hangovers. So, I rolled it out slowly so customers could try it and see how it worked for them. The response was great. We started taking repeat and wholesale orders before the supplement was even in its finished state. Once the formula was where I wanted it, I knew it was time to make it available to the mass market," stated Dr. Burke.
In addition to being available at domestic and international retailers, the supplements can be purchased online and via the Hangover Heaven app.
For more information, please visit http://www.hangoverheaven.com or send inquiries to vera(at)hangoverheaven(dot)com.