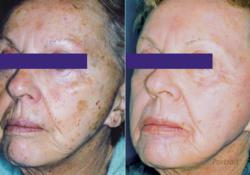 Vancouver, BC (PRWEB) May 26, 2013
Solving the problem of sun damage, photoaging and wrinkles
Sun damage, pigmentation, uneven skin tone, wrinkles, fine lines, loose skin and unhealthy colour can make people appear prematurely aged, unhealthy or haggard. Plasma Skin Regeneration, by targeting damage in the deeper layers of the dermis, transforms the look and behavior of skin. An added bonus? This repair treatment removes pre-cancerous lesions.
What is Portrait® PSR (Plasma Skin Regeneration)?
Imagine being able to reverse the effects of environmental damage on skin. The Plasma Skin Regeneration rebuilds skin, erasing the signs of damage from the inside out. It is not a laser or light treatment. Plasma is generated in the hand piece, delivering thermal energy to the dermis level and deeper for thermal modification,"waking up your skin" to create new collagen. In a sense, we are safely damaging the skin to initiate a healing response. The stratum corneum and epidermis are left completely intact, yet the resurgence of collagen at the deeper layers, creates healthy skin; transforming the look of your complexion.
Different Depths for Different Desires
The depth of treatment is dependent on the patient. Dr. Shah can access the degree of surface pigmentation, wrinkles or premature aging and prescribe a treatment based on desired results. Patients will see a difference immediately, but the real "Ah Ha" moment will happen progressively as new collagen transforms the look of your skin. Recovery time is dependent on the depth of treatment, but peeling is expected for all patients to allow the new, clearer skin to emerge. Even with a deep treatment, recovery time is significantly less that that of more aggressive lasers. Spot treatments are also highly effective around the eyes and mouth. Something to smile about!
About Dr. Sachit Shah, MD
Medical Director of Beautiful Candian Laser and Skin Care Clinic
Medical Director of Amari Medical Clinic
Dr. Shah has been practicing family medicine for over 28 years and cosmetic medicine for well over a decade and has a special interest in non-surgical cosmetic procedures and anti-aging. Along with implementing knowledge and skill in his own practice, Dr Shah trains other doctors in both family medicine and cosmetic laser techniques and conducts clinical research as an examiner for various medical bodies. Dr Shah is a medical graduate of the University of Manchester, UK and holds a Diploma in Practical Dermatology from the University of Cardiff in Wales.

College of Family Physicians of Canada (certified)
Fellow of the College of Family Physicians of Canada
Fellow of the American Society for Laser Medicine and Surgery
Fellow of the Canadian College of Family Practice
Fellow of the Canadian Society of Phlebology
Canadian Medical Association
British Columbia College of Family Physicians
British Columbia Medical Association
BC Medical Association
Beautiful Canadian Laser and Skincare Clinic is located at #101-3805 104th Avenue in Surrey BC. Contact Dr. Shah at 604-580-2464. http://www.bclaserandskincare.com.