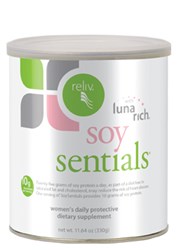 SoySentials is an outstanding product that is better than ever with the addition of LunaRich.
Chesterfield, MO (PRWEB) May 29, 2013
Reliv International, Inc. (NASDAQ: RELV) today announced the company has released its most recent video, "Find Your Balance: SoySentials with LunaRich," for public viewing on YouTube. The video focuses on SoySentials®, Reliv's protective supplement for women's health, and the addition of Reliv's exclusive LunaRich® soy powder.
Reliv produced the video to culminate the company's celebration of Women's Health Care Month in May. The video features two SoySentials consumer success stories plus commentary from Dr. Carl Hastings, Reliv Chief Scientific Officer, and Dr. Alfredo Galvez, research scientist at the Center of Excellence in Nutritional Genomics at UC Davis and lead scientific advisor at the Missouri Plant Science Center.
Advanced Nutrition for Women
SoySentials is a nutritional supplement specially designed for women. SoySentials combines soy protein, antioxidants, probiotics and herbs for a comprehensive nutritional approach to women's health. Ingredients have been shown to promote bone health, support the immune system and ease the symptoms of menopause and PMS, among other benefits.
In 2012 Reliv added LunaRich soy powder to SoySentials. LunaRich is a Reliv-exclusive ingredient that optimizes bioactive lunasin content. Lunasin is a peptide found naturally in soy that scientists have identified as the key to many of soy's documented health benefits, including cholesterol management, inflammation reduction and general cellular health.
'Outstanding Product'
"By incorporating LunaRich, the other bioactive agents in SoySentials can combine with lunasin at the epigenetic level in optimizing genes associated with cellular health," said Galvez. "That means the women's health benefits you receive from SoySentials are maximized."
"SoySentials is an outstanding product that is better than ever with the addition of LunaRich," added Hastings. "This video does a great job highlighting how the right nutrition can help women everywhere take control of their health and get the most out of every day."
About Reliv International, Inc.
Reliv International, based in Chesterfield, Missouri, produces nutritional supplements that promote optimal nutrition along with premium skincare products. Reliv supplements address essential nutrition, weight loss, athletic performance, digestive health, women's health, anti-aging and healthy energy. Reliv is the exclusive provider of LunaRich® products, which optimize levels of lunasin, the peptide behind many of soy's health benefits. The company sells its products through an international network marketing system of independent distributors in 16 countries. Learn more about Reliv at http://www.reliv.com, or on Facebook, Twitter or YouTube.