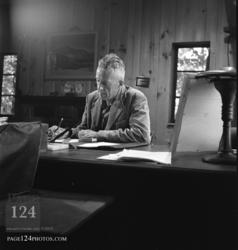 What we love about these photographs is that they allowed us to show Bill in his day-to-day life,
says Dan Carracino, co- director/producer of Bill W.
New York, NY (PRWEB) May 23, 2013
Friends of Bill W. and collectors of fine art photography now have a unique opportunity to bring A.A. history into their own homes when they purchase archival-quality limited edition prints from "The Bill W. Photographic Collection." The photos, featured in the critically acclaimed documentary "Bill W.", reveal an intimately human side of the co-founder of A.A. and the iconic figure named one of the most important people of the 20th century by Time magazine. In many of the photos, Bill Wilson is seen at home--
playing the violin, relaxing with his wife, Lois, making coffee in his kitchen, walking in the woods, even lugging a crate of Coca-Cola from the trunk of his car.
"What we love about these photographs is that they allowed us to show Bill in his day-to-day life," says Dan Carracino, co-director/producer of "Bill W." "Bill was an extraordinary person who left behind a remarkable legacy. But he was also a human being. One of the messages of the film is, Here's a guy who gets put on a pedestal—ironically, within an anonymous society—but who in reality was very human, with flaws and struggles of his own."
"Our concern was, if we release these photos, are we contributing to the idolization?" adds Kevin Hanlon, co-director/producer of "Bill W." "But in fact, much of the collection is about Bill as an ordinary person. We felt that these photos actually help to take him off the pedestal by showing him in so many different day-to-day settings."
"The Bill W. Photographic Collection," twelve limited-edition series of six photos each, will be exhibited this spring and summer, beginning at locations in New York, Los Angeles and Orange County and will be available online at page124photos.com. Each exhibition will feature talks with the filmmakers, celebrity attendance, and a variety of additional entertainment and activities, including a screening of "Bill W." at the Orange County exhibit in Corona del Mar.
Gallery quality prints of each of the 72 limited edition photographs will be available for purchase from $750 to $2,500 in sizes ranging from 11x14 to 24x30. A portion of the proceeds from the sales will be donated to several recovery-related charities. They include the National Council on Alcoholism and Drug Dependence, Inc. (NCADD), which provides "education, information, help and hope to the public"; Writers In Treatment, a national non-profit based in Los Angeles which showcased the documentary "Bill W." at its REEL Recovery Film Festival in 2012; and The Canyon Club in Laguna Beach, which is a meeting place for recovery groups.
City / Dates / Where
New York / May 29 / Salmagundi Club
Los Angeles / June 5 / Skirball Cultural Center
Laguna Beach / June 6 / Artists in Recovery
Corona del Mar / June 10 / The Port Theater
"Bill W." will screen theatrically in 26 cities across the United States on June 10, the 78th anniversary of Alcoholics Anonymous. The documentary is also available now on DVD. For more information, visit Page124.com.
# # #