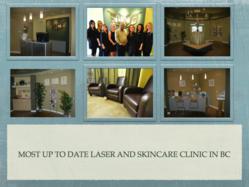 Vancouver BC (PRWEB) May 28, 2013
Why bigger is better!
With over twenty lasers and skin perfecting devices at Beautiful Canadian Laser and Skin Care Clinic, and over fifty treatments available, Dr. Shah is able to address patients needs, fulfill their desires, and make a real difference in the appearance of those who seek his expertise. He is supported by a staff that mirror the clinics passion for results.
Variety is more than the spice of life—it brings results!
Imagine having multiple solutions to every skin care or complexion concern. The vast array of treatments gives people options. The clinic has the luxury of ascertaining and providing the very best treatment for clients—without having to sacrifice on the end result. One-size-all treatments don't cut it anymore. Patients are educated and expect the best. The large range of treatments and services rival and surpass most downtown clinics in Vancouver BC and are now available to men and women in the Fraser Valley without the need to travel.
"The non-surgical aesthetics industry is fiercely competitive; having only one option for a patients isn't good enough, multiple technologies and singular or combined treatments must be customized to meet the demands of an educated consumer." -Dr. Shah
At Beautiful Canadian Laser and Skincare Clinic skin, perfecting treatments to correct aging or complexion concerns such as acne, pigmentation, melasma, loose skin, wrinkles, skin dullness, veins, photo damage laser hair removal, laser tattoo removal and body treatments for cellulite and fat reduction are offered. Dr. Shah also provides dermal facial fillers and Botox to turn back the signs of aging.
Surrey, White Rock, Delta, Langley, Coquitlam, Port Coquitlam, Maple Ridge, Langley, Burnaby, Pitt Meadows, Port Moody, Vancouver are all areas that are covered by Beautiful Canadian Laser and we are proud of the fact that many of clients travel from outlaying areas based on the quality of treatments and service offered.
About Dr. Sachit Shah, MD
Medical Director of Beautiful Candian Laser and Skin Care Clinic
Medical Director of Amari Medical Clinic
Dr. Shah has been practicing family medicine for over 28 years and cosmetic medicine for well over a decade and has a special interest in non-surgical cosmetic procedures and anti-aging. Along with implementing knowledge and skill in his own practice, Dr Shah trains other doctors in both family medicine and cosmetic laser techniques and conducts clinical research as an examiner for various medical bodies. Dr Shah is a medical graduate of the University of Manchester, UK and holds a Diploma in Practical Dermatology from the University of Cardiff in Wales.

College of Family Physicians of Canada (certified)
Fellow of the College of Family Physicians of Canada
Fellow of the American Society for Laser Medicine and Surgery
Fellow of the Canadian College of Family Practice
Fellow of the Canadian Society of Phlebology
Canadian Medical Association
British Columbia College of Family Physicians
British Columbia Medical Association
BC Medical Association
Beautiful Canadian Laser and Skincare Clinic is located at #101-3805 104th Avenue in Surrey BC. Contact Dr. Shah at 604-580-2464. http://www.bclaserandskincare.com